Prof. A. K. Bakhshi Honoured with HEE-2021 Award
Prof. A. K. Bakhshi , Vice-Chancellor, PDM University was felicitated virtually on 14th March  2021 with the prestigious His Excellence Education  (HEE) Award 2021   by the Fun2Learn organisation in appreciation of his inspirational and tireless work to serve the cause of education in the society during the last one year.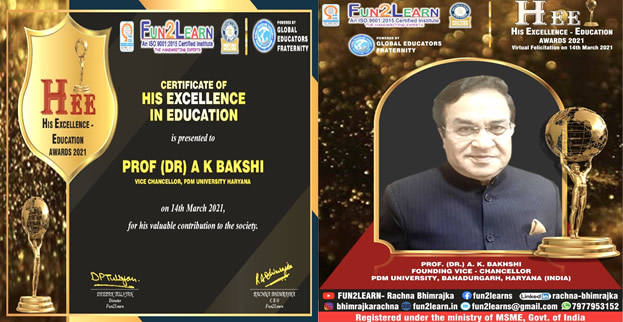 Speaking on the occasion, Prof. Bakhshi talked about the challenges of the 21st Century in respect of education. He said that the present information age is an age of uncertainty, artificial intelligence and mass education. He said that in such a scenario focus needs to be on 21st century skills such as learning skills ( creative thinking, creativity, communication and collaboration) , literacy skills (information, media and technology) and social skills ( flexibility, leadership, initiative, productivity and social) in order to succeed.