Webinar on Oral Health & Covid-19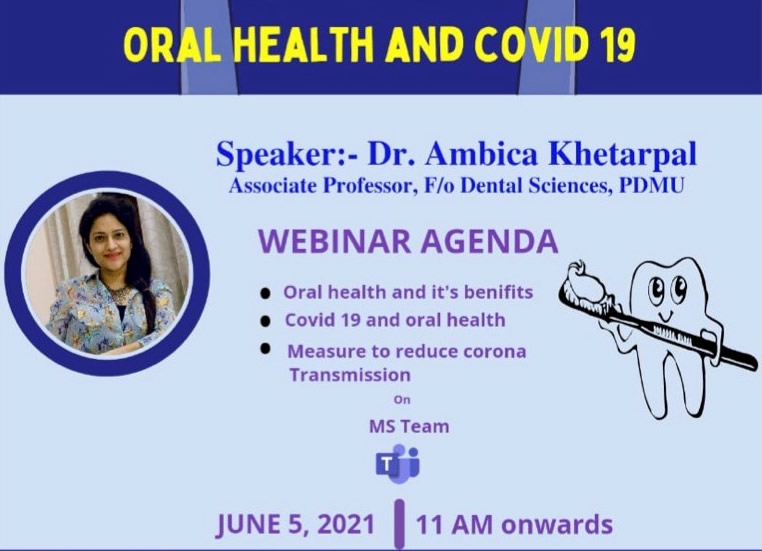 Faculty of Dental Sciences, PDM University conducted webinar on the topic " Oral Health and Covid-19" on 5th June, 2021. The programme started with the inaugural speech of Dr. Mandeep Singh Virdi, Dean, Faculty of Dental Sciences. He gave introductory remarks briefly highlighting the challenges faced by the dentists in delievering oral health care treatments at the institution and private clinics since the global outbreak of SARS-CoV-2 disease in March, 2020. He highlighted that all health care personell should adhere to standard and transmission based precautions when treating patients during this Covid-19 crisis and beyond.
Dr. Ambica Khetarpal, Assoc. Professor, Department of Conservative Dentistry was the speaker of the day. She highlighted the aspect of maintenance of meticulous oral hygiene by self-driven oral hygiene practices. such as brushing twice a day, flossing and use of an antiseptic mouth wash. She insisted on disinfection of the tooth brushes on a regular basis by immersing them in mouth wash for at least 10 minutes. She busted the most common myths and misconceptions related to Covid-19 that are currently circulating on social media and beyond.
Dr. Hema Chaudhary, Dean student's welfare and Dean of Faculty of Pharmaceutical Sciences added that as SARS-CoV-2 causing Covid-19 was recently detected in the saliva of infected patients, and saliva as being a viable sample source, so salivary diagnostics may provide an easy and cost-effective point-of-care platforms for quick and early diagnosis of Covid-19. In the last, there was a Q&A session, where lot of interaction happened with the attendees.The webinar lasted one hour and thirty minutes. The lecture was attended by more than 150 participants including senior faculty members, dental students and students from different faculties of PDM University. The lecture was very informative and was taken off very well by the audience. The event concluded with the vote of thanks by Dr Pankaj Bajaj, Professor and Head, Department of Prosthodontics.