Blood Donation Camp
PDM University organized a Mega Blood Donation Camp on 14th November, 2019 at Gymnasium area, PDMU Campus from 10:00 a.m. onwards under the umbrella of Lions Club, Bahadurgarh Town and HDFC Bank.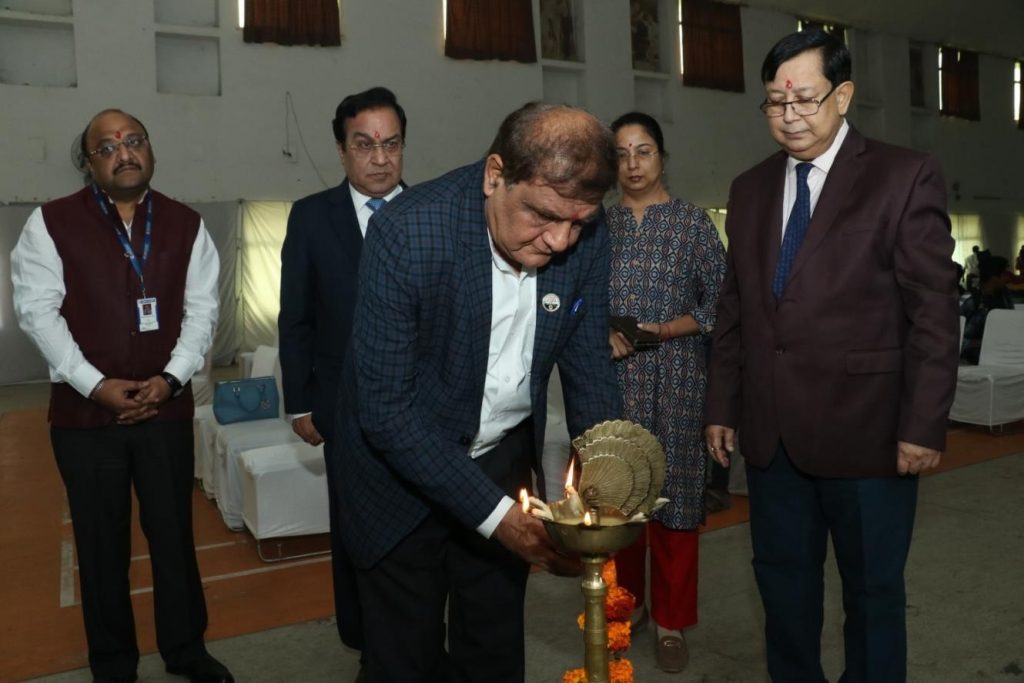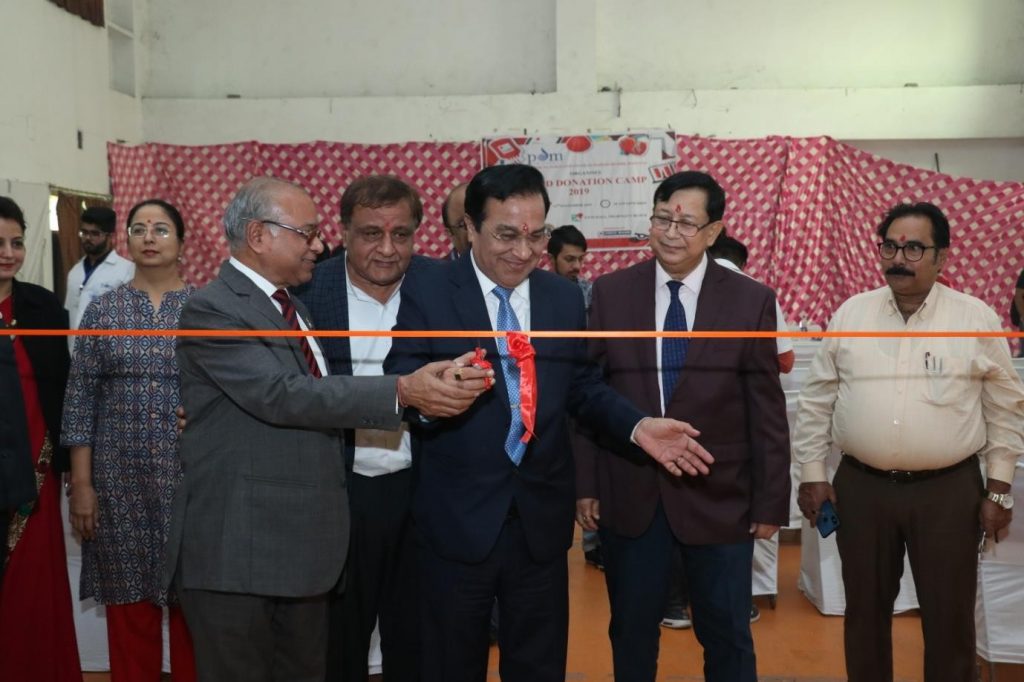 The juncture was witnessed by the venerable presence of
(Dr.) A.K. Bakhshi, Hon'ble Vice Chancellor, PDM University,
R. C. Bhattacharjee, Hon'ble Pro Vice-Chancellor, PDM University,
Esteemed chief guest, Lion Mr. Gobind Malik, President, Lion's Club, Bahadurgarh Town,
Guest of honour, Lion Mr. Gulshan Sharma, Secretary, Lion's Club, Bahadurgarh Town,
Guest of Honour,Mr. Rajender Aggarwal, President, Lions Blood Bank, Shalimar Bagh, Delhi,
Bharat Bhushan Goyal, Area Operation Manager, HDFC Bank,
K. L. Kathuria, Medical Superintendent, PDM General Hospital,
(Dr.) Hema Chaudhary, Dean, Students Welfare, PDMU and Dean, Faculty of Pharmaceutical Sciences
on the dias.
The event was also poised by Dr. Vibhuti Bhatnagar, Deputy Director, Lions Blood Bank, Respected Deans of various Faculties of PDMU, Staff members and Students. The event started by invoking the blessings of Almighty by lightening the ceremonial lamp and chanting a small hymn for the success of the noble cause. The guests were then greeted with a floral greetings. DSW, PDMU welcomed the esteemed guests and all Hon'ble dignitaries.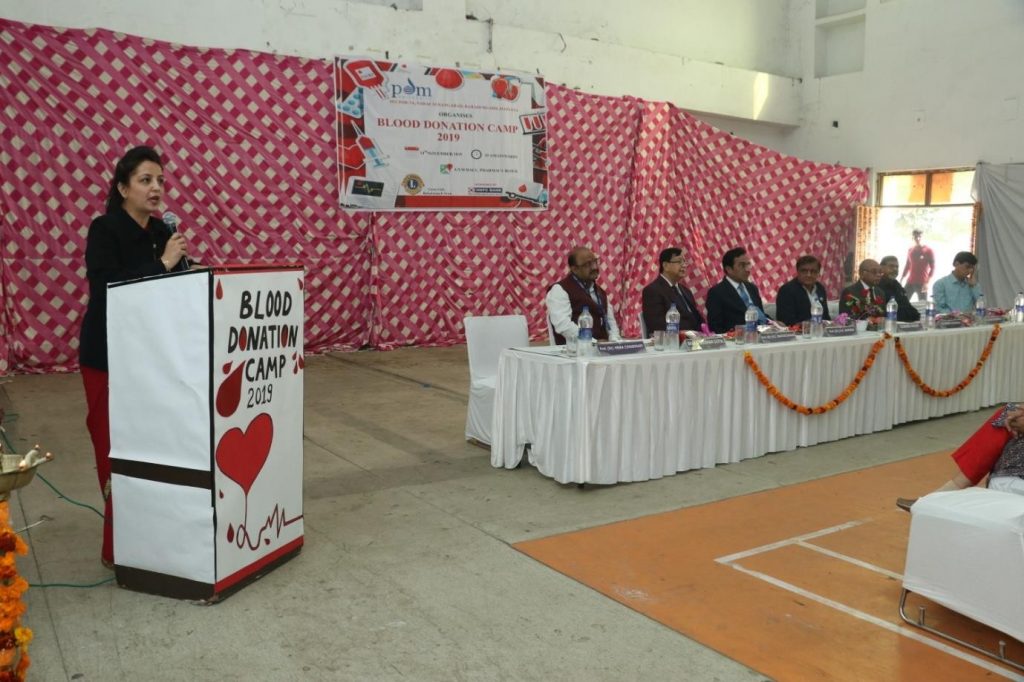 Prof. (Dr.) R.C. Bhattacharjee, Hon'ble Pro Vice-Chancellor, PDMU thanked all the honourable dignitaries, faculty members of PDMU as well as all the student volunteers for their massive contribution in organising  Blood Donation Camp in PDM University Campus. He apprised about the importance of blood for the survival of a needy. He mentioned that distribution of blood is equally important as the donation of blood is.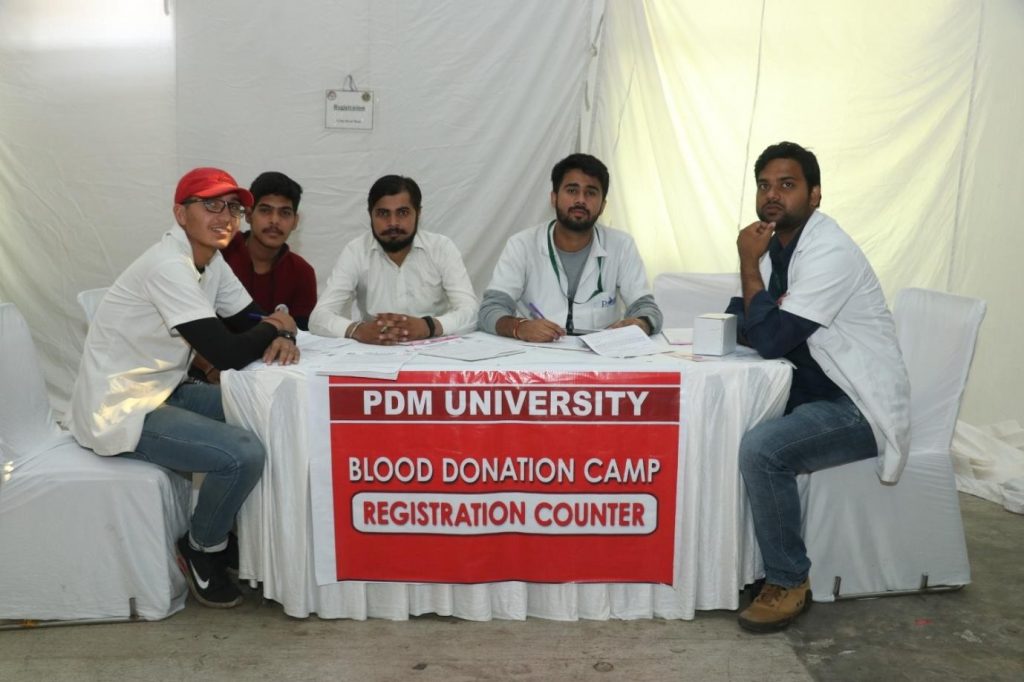 Guest of Honour, Mr. Rajender Aggarwal, greeted all the dignitaries. He thanked PDMU officials for giving Lions Blood Bank the opportunity to organise such a colossal Blood Donation Camp in PDMU Campus for 3 consecutive years in a stretch. He thanked HDFC representative, Lions Blood Bank members and all the student volunteers for their Contribution. He apprised the significance of blood donation as a single donation has the potential to save 3 human lives. He quoted  that, " We should donate blood with a thought that the blood we are donating today should reach needy because if we somehow need blood tomorrow, then somebody's blood will be of use to us." He requested the gathering to come forward and contribute in this virtuous deed.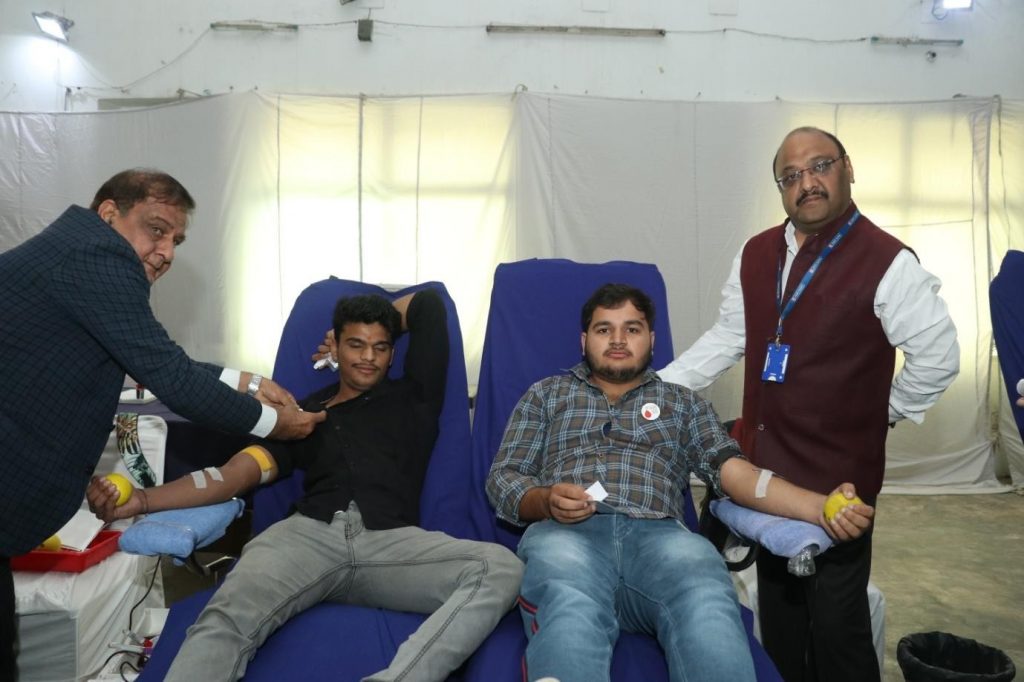 Esteemed Chief Guest, Lion Gobind Malik delineated a real life incident regarding blood donation, through which he threw light on the importance of blood donation and thus appealed more and more volunteers to make the camp a huge success.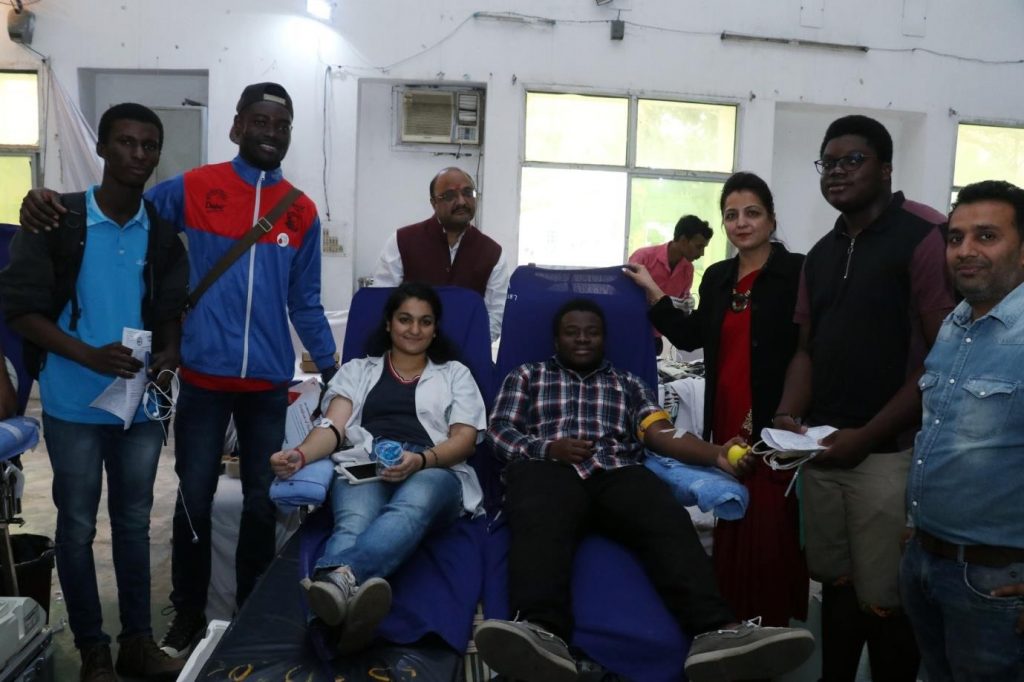 Prof. (Dr.) A.K. Bakhshi, Hon'ble Vice- Chancellor, PDMU thanked everyone for their support and contribution. He apprised about different components of blood and how single unit of blood can save number of lives. He enlightened the gathering that till date, Blood has not been prepared synthetically. He mentioned, "Blood is what unites us" since when a needy receives blood, he neither talks about donor's religion nor caste. The only grounds for blood transfusion is matching of blood group and other pre-tranfusion blood screening parameters. At last, he thanked DSW and other members of supporting team for organising such a Mega Camp.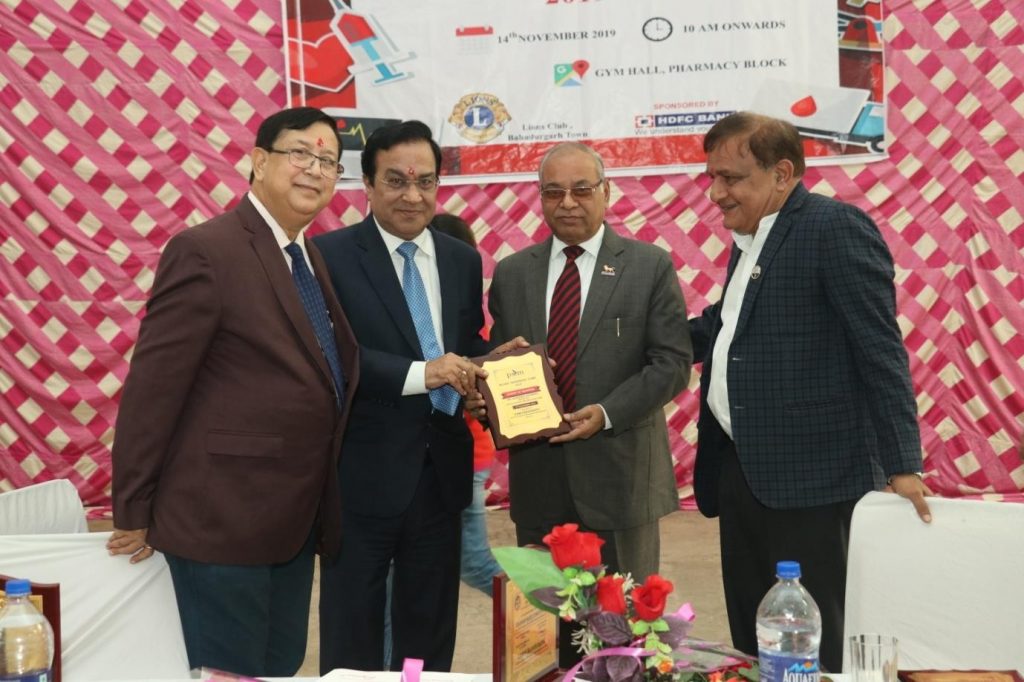 The HDFC Bank representative, Mr. Bharat Bhushan Goel handed over a sponsorship  cheque to Hon'ble Vice Chancellor, Respected Pro Vice Chancellor and  DSW. All the dignitaries were presented a souvenir as a token of gratitude by Hon'ble Vice Chancellor and Respected Pro Vice Chancellor.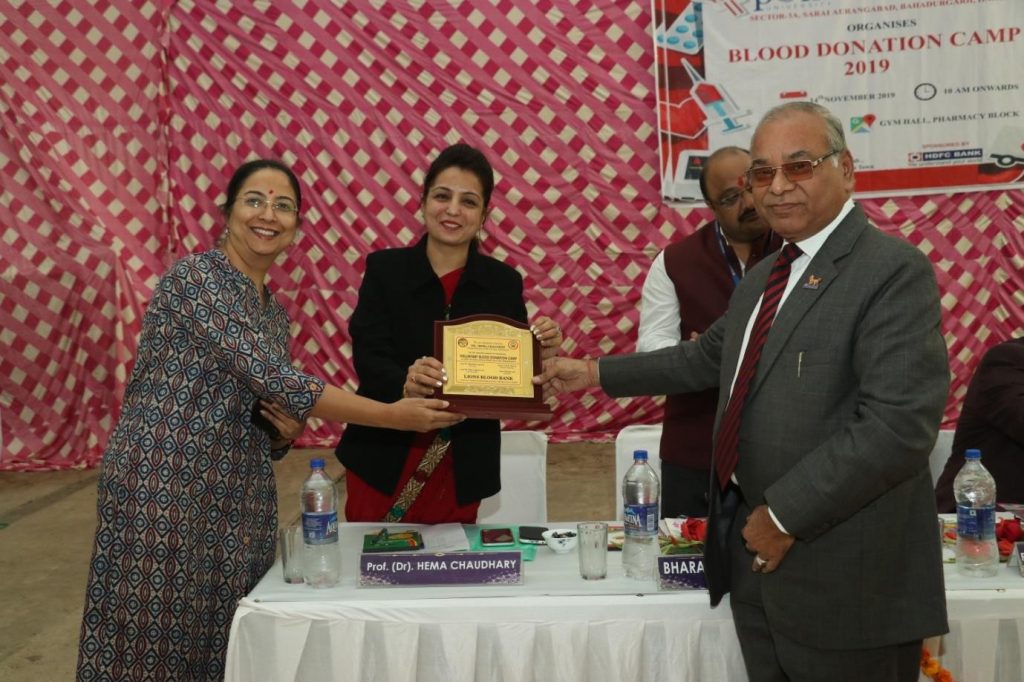 Lions Blood Bank also felicitated the officials of PDMU, Hon'ble vice chancellor, Respected Pro Vice Chancellor, DSW and Mr. Sube Singh with a souvenir for collaborating with them for consecutive 3 years. Vote of thanks was proposed by Dr. K.L. Kathuria.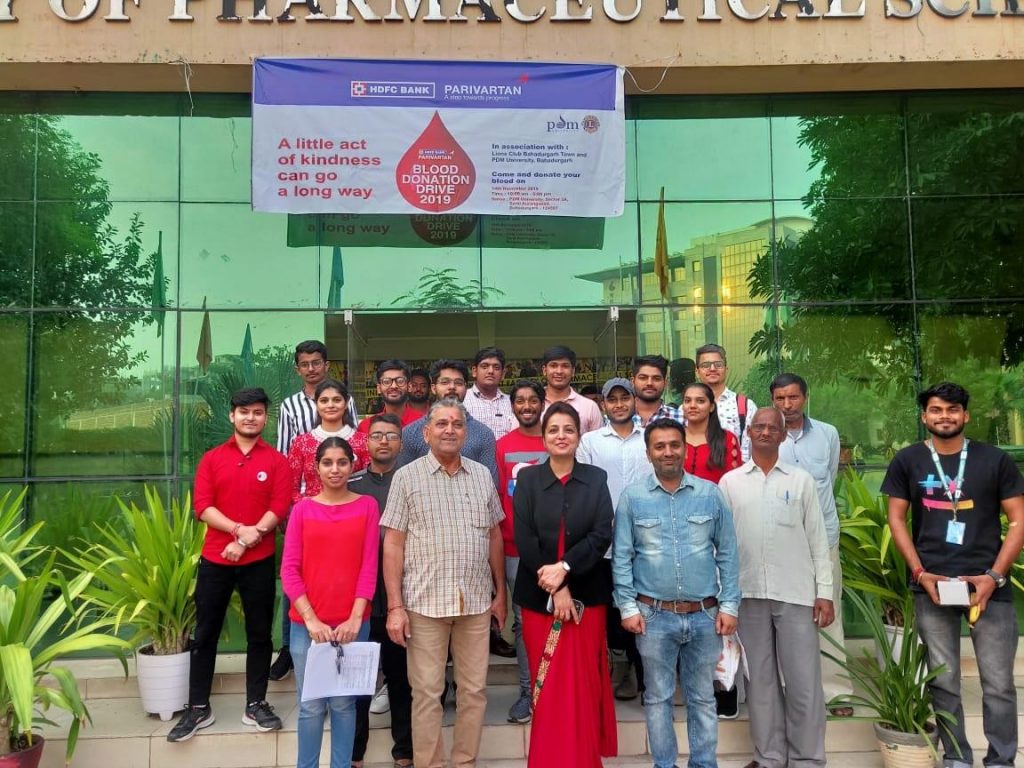 The gathering stood up to pay tribute to the nation by playing National Anthem. The camp was inaugurated with ribbon cutting ceremony. The camp began with lot of enthusiasm by all the Students and Staff members from all the Faculties of PDMU. About 440 volunteers registered for blood donation, out of which around 325 candidates donated blood. Donors were given refreshments, sovereign Coffee Mugs and Certificate of Appreciation for this service to humanity.