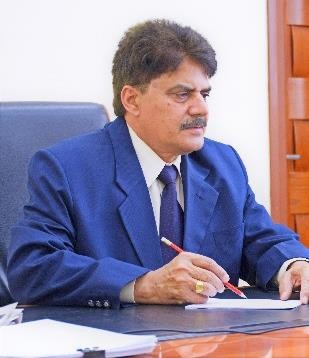 It is a matter of an honor and immense pleasure for me to welcome each and every one of you to PDM University in Bahadurgarh, Haryana. As the Registrar of PDM University, I take this opportunity to address and share a motivational message that resonates with the values and aspirations of our University.
At the outset, P.D. Memorial Religious & Educational Association (PDMREA) was established in 1995 at Bahadurgarh, Haryana in loving memory of Late Shri Prabhu Dayal Jee who was an inspiration behind the creation of a temple of academic learning  in order to serve the community to eradicate illiteracy from this region. Later on in the year 2016, this esteemed PDM Group of Institutions immersed as PDM University that has now become an educational hub in the Delhi NCR. Being Registrar at PDMU, I firmly believe in the power of education to transform lives and ignite minds. It is through education that we equip ourselves with the tools and knowledge to navigate the complexities of the world and emerge as confident, capable individuals ready to make a positive impact.
As you embark on your educational journey at PDMU, we encourage you to embrace the opportunities and challenges that lie ahead. Your time here at the university will be marked by academic pursuits, personal growth, and the development of lifelong friendships. Seize every moment and immerse yourself in the rich tapestry of experiences this university has to offer. Our esteemed faculty, with their exceptional expertise and unwavering dedication, will guide you on your path of knowledge acquisition. They are here to inspire, challenge, and support you in your quest for intellectual growth. They open your minds to new perspectives, engage in lively discussions, and explore the depths of your curiosity. Remember that education is not confined to the four walls of a classroom. PDM University offers a vibrant and inclusive community where extracurricular activities, clubs, and events foster personal development, leadership skills, and a sense of belonging. Embrace these opportunities wholeheartedly and uncover hidden talents and passions within yourself.
We encourage students to engage in open and respectful dialogue, fostering understanding and empathy among peers. By embracing different viewpoints and experiences, we cultivate a community that is equipped to tackle complex challenges and contribute meaningfully to society. We are excited to have you as a part of our vibrant community, and we look forward to witnessing your personal growth, academic achievements, and contributions to society. Together, let us create a world where diversity is celebrated, inclusivity is championed, and every student has the opportunity to thrive.
Once again, a warm welcome to PDM University. May your journey over here be one filled with boundless opportunities, transformative experiences, and the realization of your aspirations.
Best wishes
Prof (Dr) Rampal Singh
Registrar
PDM University
registrar@pdm.ac.in