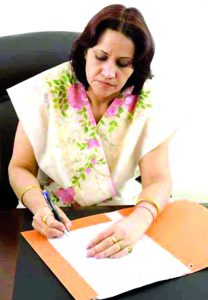 PDM University has been established by the P. D. Memorial Religious & Educational Association, Bahadurgarh, which has got an excellent track record of establishing a galaxy of U.G./ P.G. Colleges of Engineering, Dental, Pharmacy, Architecture, Education & Diploma Level Technical Institutions, and is running them very successfully. These Institutions draw students from all parts of the Country and enjoy an extra-ordinary reputation for Educational Innovation and Academic Excellence. The PDM University has been modelled after the best Universities of India. Its main objective is to provide an excellent environment for higher studies, research & innovation. It has introduced various academic programmes & is providing education at the level of U.G., P.G., & Ph.D.
The education is a joint venture of the teacher & the taught, in which teacher has to share more responsibility than the students. We believe that only good teachers can transmit higher values to their students through their overall personality. So, we have selected teachers who are acknowledged academicians. They have visionary outlook, outstanding academic qualifications, vast experience, passion for teaching & are also known for their innovative drive. My conviction is that the students must obey their teachers and pursue their studies whole-heartedly. They should maintain strict discipline, do hard work, exhibit dedication, develop scientific temperament and show proper etiquettes in their behaviour with others.
At PDM University, we ensure the quality of education, which we impart to our students – "Quality Education" means quality of the end product – THE STUDENTS. The all-round development of the students is quite necessary so that they may be able to face the realities of the life, once they have passed out from the University. Hence, the University takes utmost care of this aspect and inculcates high ethical values in the students. Only buildings and equipment are not sufficient for good education. There are so many other factors also which contribute considerably to it. Actually, a University is daily tested in its Labs, Classrooms and Libraries. So, PDM University is giving special attention to them. All the students support services, like meticulously maintained playgrounds, gymnasium, swimming pool, hospital, hostels, canteens, R&D Cell, grievances redressal cell, placement cell etc. have been provided. Various Scholarships for students have also been introduced so that they may be able to build a bright & ambitious career. Sufficient funds are being provided by the Management for encouraging research work, adopting digital evaluation system & dissemination of knowledge in various branches of learning. I am sure that in the time to come, it will certainly prove one of the premier Universities of India for research & educational activities
I extend my good wishes to all those students who are going to take admission in this University in 2016 and wish them all success in their academic career and future endeavours.
Smt. Bimla Singh Prabhu
Chancellor
PDM University, Bahadurgarh