Farewell Function of B.Sc(Hons.) Agriculture batch 2016-20
To bid farewell to the pass-out First batch (2016) of B.Sc. (Hons.) Agriculture of PDM University (Bahadurgarh), a function was organized by Faculty of Agriculture on 15th August 2020 at 11 AM.  Prof. A.K. Bakshi, Hon'ble Vice Chancellor was the Chief Guest, Prof. R.C. Bhattacharjee,  Hon'ble Pro Vice Chancellor was the Guest of Honour and  Prof. A.S. Dhindwal, Dean, Faculty of Agriculture presided over the function. The pre-final year students viz., Mr. Adarsh, Mr. Vaibhav, Ms. Khushboo and Ms. Tanveen co-ordinated the proceedings of the function.
At the start of this online (virtual) function on MS Teams, students' coordinators welcomed the Chief Guest, Prof. A.K. Bakshi, Guest of Honour, Prof. R.C. Bhattacharjee and Prof. A.S. Dhindwal, Facult of Agriculture and students of the 2016 and 2017 batches.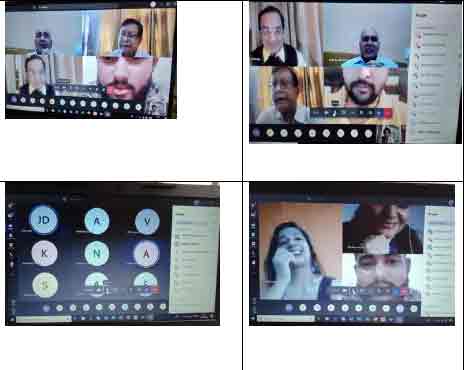 Prof. A.S. Dhindwal, Dean, Faculty of Agriculture welcomed the dignitaries and exchanged greetings on the 74th Independence Day. He acknowledged the constant support and guidance from the Hon'ble VC and PVC for  the  improvement in academic activities. He recognized the efforts of faculty and cooperation from students for a noteworthy positive change in students aptitude. The B.Sc. in Agriculture is a broad-based course with great potential will never face a recession, have abundant opportunities in various sectors. Being a teacher, he is proud of the pass out students and advised them never letdown the standing of the institute, teachers and their parents, Be a good human being and a good citizen.  He assured any guidance/help to the students, at their call and wished best of luck for their future endeavors and success in life.
The Hon'ble Pro Vice-Chancellor, Prof. R.C. Bhattacharjee recognized the hard work and dedication of the faculty. He also   appreciated the real change in students' conduct who are now more scholarly, disciplined, respectful and well responsive. This is most satisfying achievement for us that we could imbibe these qualities in you. You will be role model for the juniors. He congratulated the first batch of B.Sc. (Hons.) Agriculture passout students on successful completion of the course.  He advised them that being  mature, energetic and enthusiastic push yourself towards the good in life. He assured all kind of assistance to the students from PDM University whenever they called for. He blessed them every success in their future life and look forward to hearing of their future successes.
The Hon'ble Vice-Chancellor, Prof. A.K. Bakshi advised to be more careful and wished good health, well being of all in the era of this CORONA pandemic. He enlightened the importance of Agriculture in Indian context and the role of Agriculture graduates likely to play in increasing the agriculture production. As food is the basic necessity for humans and animals, the Agriculture sector will never face any slowdown. The development in technology, research, and innovation has multiplied  the scope of agriculture, globally. He emphasized that the technology will play an crucial in all spheres of human life. Use of newer technologies, specially the ICT in Agriculture, will be indispensable in harvesting the potential yields. He advised the students to have an in-depth knowledge of the subject and excel in their field of education or profession. One should acquire good writing skills and capability to be a good presenter of the work you are involved in.   He assured that the doors of PDM University are always open for every student to provide any guidance, whenever they call for it. He blessed them all success in their future career and wish to prove themselves to be on the forefront in their occupation. He thanked all for having him here and making him part of this wonderful farewell function.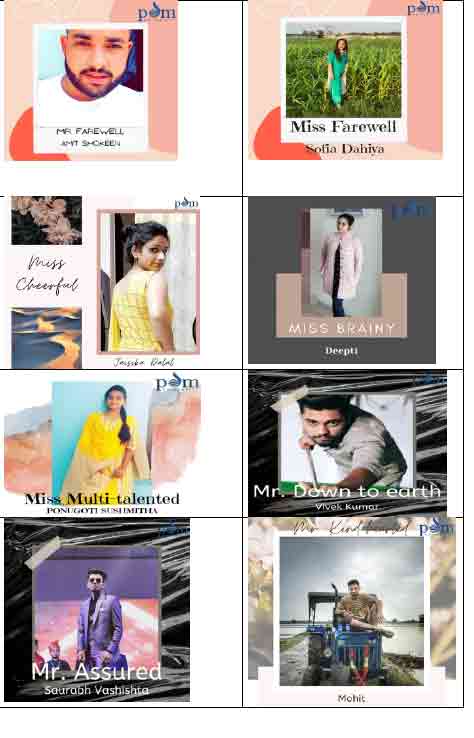 After this, there was an very interesting and open interaction between the students and faculty, and among the students. The pass-out students shared their experiences during studies and stay at PDM University. They were very enthusiastic and positive towards their future. They expressed their heartfelt gratitude to the teachers for transmitting in-depth knowledge of the Agricultural subjects and in motivating them to be more sincere towards their studies.
Although, all faculty of Agriculture were invited in this virtual farewell function, however, Drs. Priyanka Mishra, Neelam Chaudhary, Amardeep Kour, Suman Devi, R.K. Sharma, Pooja Malik and Vishal Johar attended the function. Some of  the faculty members also expressed their teaching experience with the pass-out  batch of 2016 and observed that Miss Deepti, Ashu, Preeti and Mr. Amit, Rahul have improved their learning capabilities. Miss Sofia Dahiya and Mr. Amit Shokeen were declared Mr. and Miss Farewell-2020, respectively.  The e-titles were given to all the pass-out students by their juniors as a token of memory.
The function ended at 12.45 PM with vote of thanks by Mr. Adarsh to the Hon'bles Vice Chancellor, the Pro Vice-Chancellor,  the Dean and the respected faculty of Agriculture for gracing the occasion, all the pass-out students. Special gratitude to Dr. Priyanka Mishra for taking initiative and guiding the student to organize such an fantastic online event for the first time and to Dr. Neelam Chaudhary for real-time interaction with the students. He thanked the students' co-ordinators viz., Ms. Khushboo, Mr. Vaibhav and Ms.Tanveen for all cooperation to make this virtual event a successful.