Induction Program Day-2 @ PDMU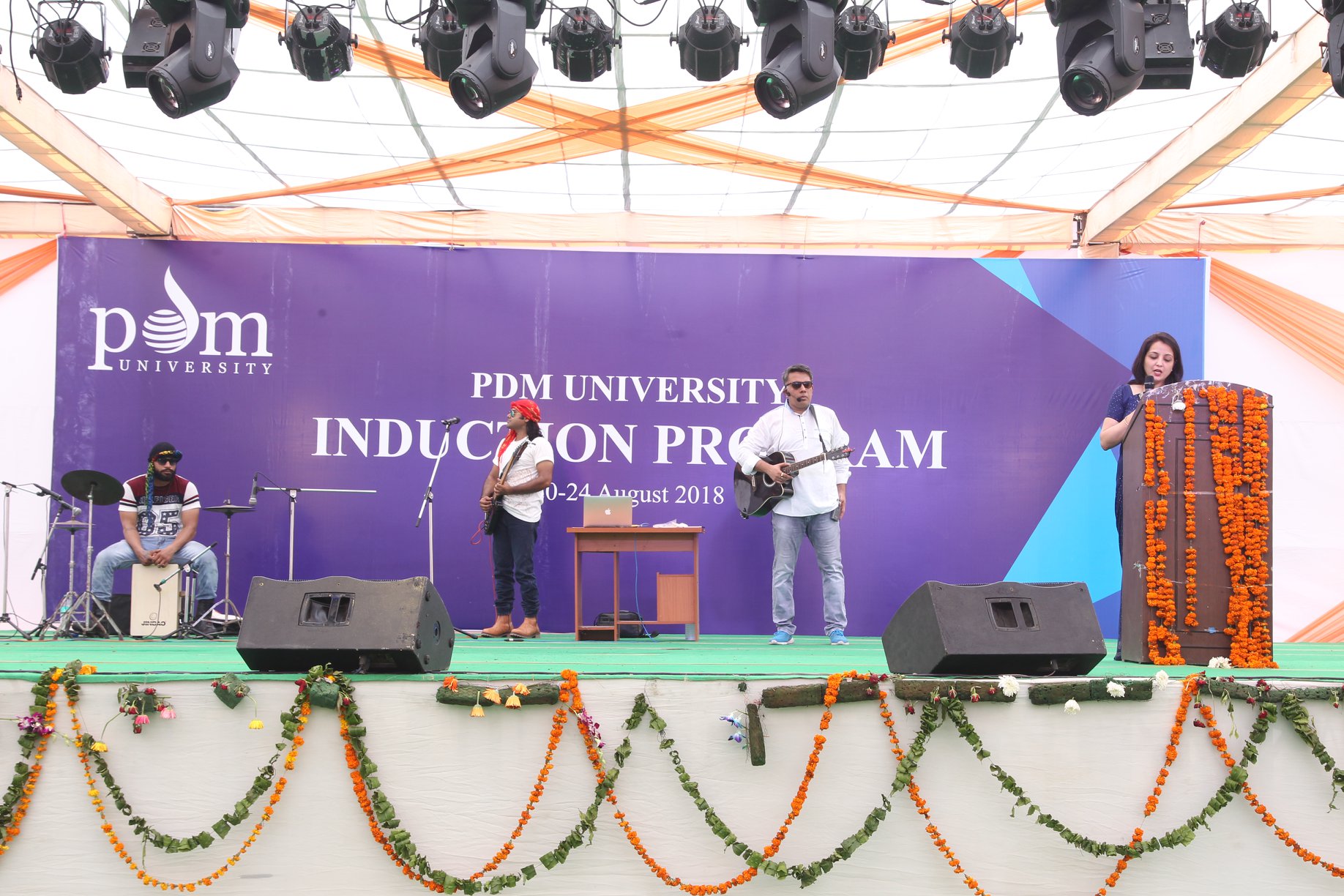 August 21st, the second day of Induction Program was full of enthusiasm, energy, melodious music, mental and oratory skills and much more. Senior Students were excited to motivate, entertain and involve the freshers in the Celebration of Induction.
Noted Motivational Speaker Mr.Vineet Tandon shared his experience through journey of his life and used popular Bollywood songs to inspire new students. He started with motivational song from super hit movie '3 idiots'. Referring to the song "Sari Umar Mar Mar Ke Jiliye, Ek pal to ab hamein Jeene do. Give me some sun shine, give me some rays, I wanna grow up once again", he explained to new students that they should do whatever their heart wants them to do and should keep belief in themselves.
He added that they had started a new journey as now they had moved from school to college and it is now in their hands where they want to take up their career plane. He also added that many times in life, one is not sure of what he/she want to become, what he/she should do as next steps however if you believe in yourself then you will figure it out and you will surely achieve success.
Mr.Tandon also referred another motivational song "Dil hai chhota sa, chhoti si aasha. Chaand Taron ko chhune ki aasha" for motivating the new students. He added that during the college days, they need to figure out what they want to do as this will be deciding their future.
Mr. Vineet Tandon said that PDM University will act as training and study house for them and that they should take advantage of this opportunity. He stated that two steps are very important. First is to figure in-out and second is to develop their support system and to develop relationship with entire society. Mr.Tandon also read a couplet from Kabir "Moko tu kya, dhundhe re bande, main to tere paas me…main to tere vishwas mein". He advised new students that they face any failure; they should avoid that and should remain positive as neither success is permanent nor failure. Students should remain motivated so that they can achieve their goals.
After completion of motivational talk, the special session was arranged for New Students regarding Inhuman Act Ragging. Dr. Hema Choudhary, Dean, Students welfare, briefed the new students on anti-ragging measures being put by PDM University. She added that ragging is an illegal and punishable act and if any student found guilty, can be expelled. She informed the new students that there has been not even a single case of ragging until now and to ensure that it will not happen in near future as well, the university had formed anti-ragging committee and anti-ragging squad.
During the program, new students did formal interaction with their respective faculties. At the end of the program, quiz and debate competition were also organized. Total of 8 teams participated in quiz competition; out of which, Team 'H' from Department of Pharmacy declared winner. In debate competition, Muskan got first position on the topic 'Text book be replaced by I-pads and online resources'. Second position was secured by Akarshika whose topic was "Online education is good as classroom learning' and third position went to Priya for the topic 'Is it important to have equal representative of gender and races in politics ?'