Industrial cum Leisure Trip
Faculty of Pharmaceutical Sciences, PDM University organized an industrial visit cum Conference cum Leisure tour to Haridwar, Dehradun and Mussorrie respectively for B.Pharma (third & fourth year) and M. Pharma (second year) students from 09th October to 13th October, 2019.

As the proverb goes "The logic can take you from A to B, but imagination can take you anywhere", it perfectly corroborates to the dynamic skills of pharmacy students following their creative insight. So, in order to cater the visionary minds of students and to make them abreast with the practical side of their coursework, an industrial visit to Haridwar was planned.
Students boarded buses from Peeragarhi / Bahadurgarh on 09th October night and checked in at hotel in Haridwar early morning. After a rest of few hours, students visited two leading Pharmaceutical industries producing variety of Pharmaceutical Products. A team of 73 members including 68 students accompanied with five staff members went for the tour with equal participation of both Girls and Boys.
Baxil Pharma Pvt. Ltd. was the first industry to which the group paid their visit. Registered in 2012, Baxil Pharma Pvt. Ltd. has made a name for itself in the list of top suppliers of Common Medicines & Drugs, Pain Relief Drugs & Medicines in India. The supplier company is one of the leading sellers of listed products and is listed in Trade India's list of verified sellers offering supreme quality of Multi-vitamin Multi-mineral Syrup 100ml, Levofloxacin Tablets, Cyproheptadine Syrup etc.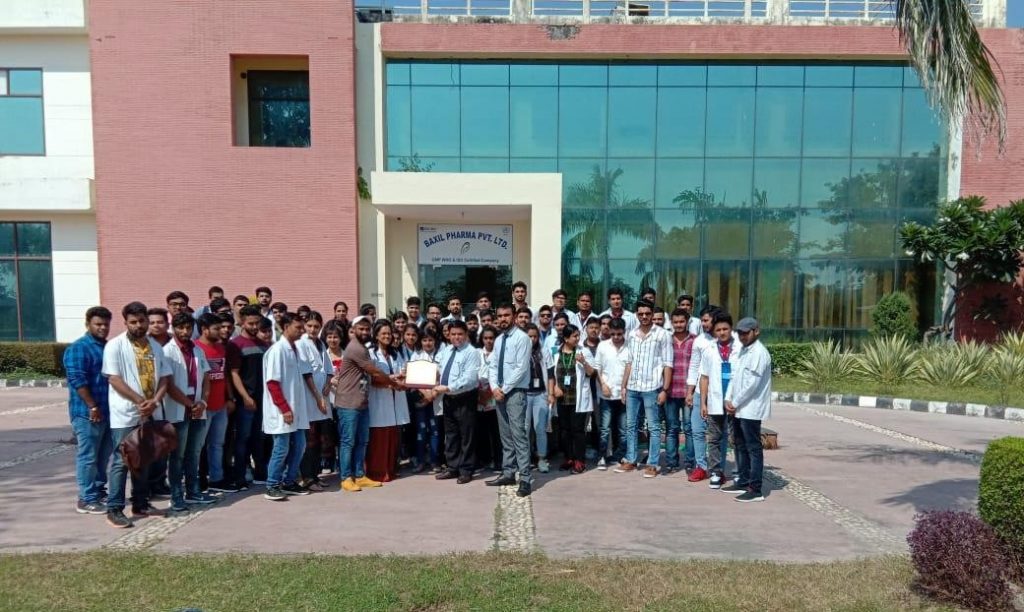 On arrival at industry, the students were welcomed and were allowed to visit the industry along with a guide in 2 groups accompanied by faculty members where initially, one group was introduced with the apparatus such as Dissolution Apparatus, Disintegration Apparatus, Chemical Room, Latest-designed HPLC apparatus, etc. used in Microbiological /QC laboratory to test raw material as well as finished product and another group was escorted to the production area and then vice-a-versa. Inside the production area, multiple guides gave a presentation on overall production cycle of pharmaceutical products right from raw material purchase to marketing of finished products, also discussing about the whole process and functioning of the machinery such as Rapid Mixer Granulator (RMG), Multi-Mill Machine, Fluidised Bed Dryer (FBD), Double Rotary Tablet Compression Machine, etc used there. During this interaction, Guide talked about considerations to be made during purchase of raw materials, their storage (RM Store), dispensing, production considerations, in-process quality control (IPQA), labelling, packaging and distribution. was described. He explained about the powder granulation and tableting machine which is used for the production of tablets. This exposure helped students to gain real time knowledge of what they have been learning theoretically in their books. Before leaving the company, the company manager was felicitated with a memento by the staff members and students also got clicked in some group photos.
After Baxil Pharma visit, students paid a visit to another industry; DeltasPharma India Pvt. Ltd. It is one of the leading companies in innovative herbal product development and manufacturing in India. The company develop the natural products with, potent herbs as an adjuvant for Human and Animal Nutrition segment.
The whole team of students was divided in the batches of 10-10 students and was then escorted to their production area. Before entering into production area, students were asked to wear apron, mask, shoe cover and head cover so that no contamination enters the production area. During the round of the area, they explained every minute details of their facility right from floor moping to maintaining Aseptic Conditions. They did not hesitate to answer the queries of the students and faculty members. Students were lucky enough to witness the overall production cycle of Syrups, Eye Drops, etc. starting from storage to packaging and distribution area. Students also got an opportunity to witness the technique used in carrying out Granulation, Compression, Labelling and Packing of tablets and capsules.
After a healthy visit to both the industries, students went back to the hotel for lunch. Then, in the evening, the tour co-ordinator took the group for the local sight-seeing at Haridwar where the students enjoyed a lot and then came back to hotel for dinner and night-stay.
After having lavishing breakfast, the group headed over to Dehradun for the 24th Annual National Convention of Association of Pharmaceutical Teachers of India, APTICON 2019, organised at DIT University on 11th October with en-route lunch. The team attended the conference and received their kits along with the certification of participation provided by the DITU. Few students  also presented posters in the Conference.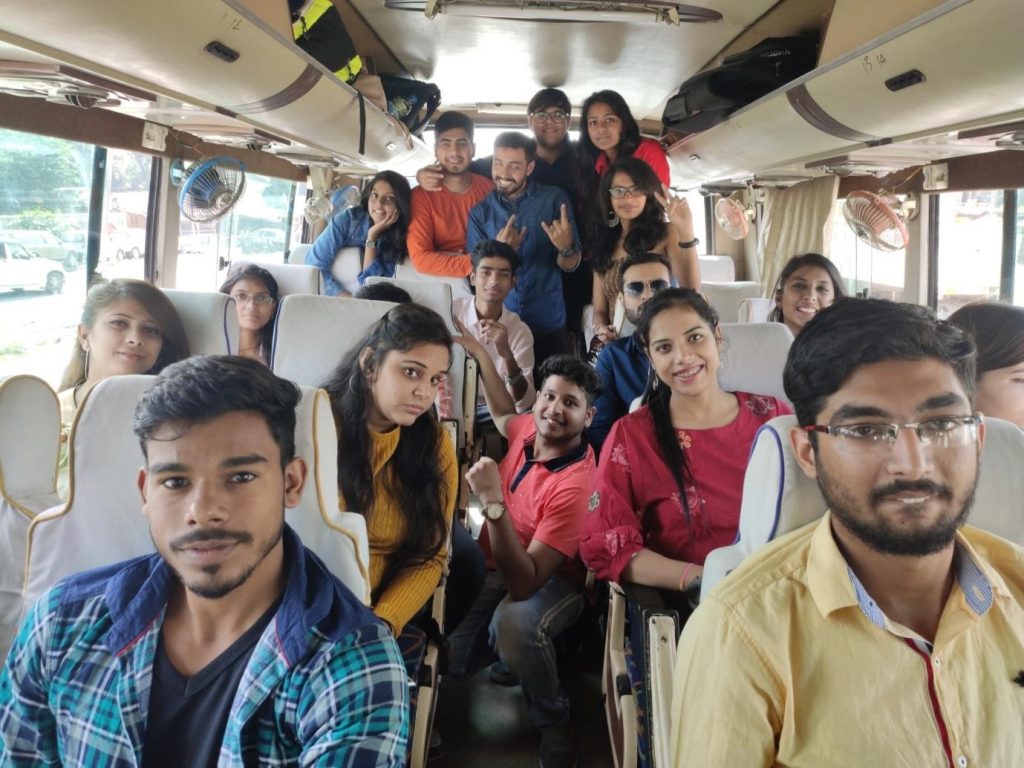 Then, after having scrumptious dinner at DITU, the students made their way towards Mussorrie for Leisure tour . The leisure tour at Mussorrie was organised on 12th October where, the students had moreish breakfast followed by local sight-seeing like Mall road, Gun Hill Point, etc. Students enjoyed their visit to Gun Hill point via cable car ride and made uncountable jovial memories. DJ Evening party came as a cherry on top of cake where all the students felt extremely beatific and wanted to savour every moment. After the DJ party, the group had piquant dinner followed by their check out from the hotel and finally boarding of buses for their return journey to Delhi.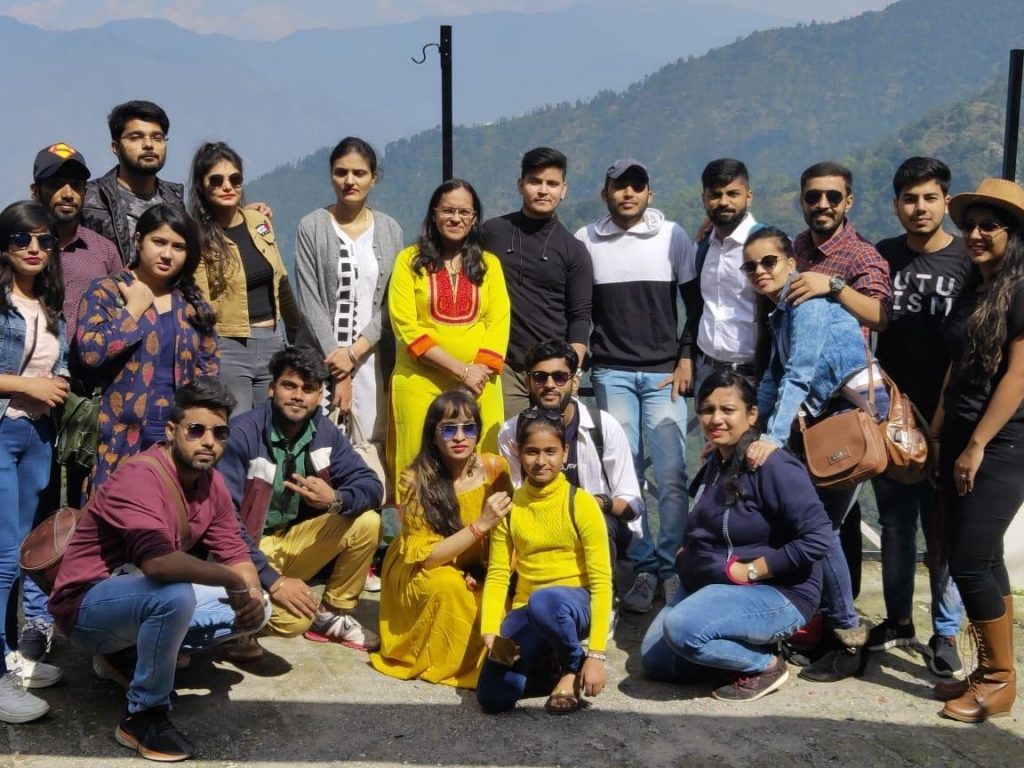 Eventually, the tour successfully ended up with immense Knowledge, cherishable Memories, unfading and eternal Moments and happy Photos!