National Science Day 2020 Celerbation
Enthusiastic participation of students & faculty members in the Science exhibition and Quiz Competition marked the cheerful celebrations of National Science Day, at Amphitheatre, PDM University on 28th February, 2020 from 12:00 p.m. onwards. The event was graced by Hon'ble Vice Chancellor, PDMU, Prof. (Dr.) A. K. Bakhshi, Respected Pro Vice Chancellor, PDMU, Prof. (Dr.) R.C. Bhattacharjee and Respected Dean, Students Welfare and Dean, Faculty of Pharmaceutical Sciences, PDMU Prof. (Dr.) Hema Chaudhary, respected Deans, Staff and Students of various Faculties of PDMU.The Hon'ble dignitaries were then greeted with a nosegay.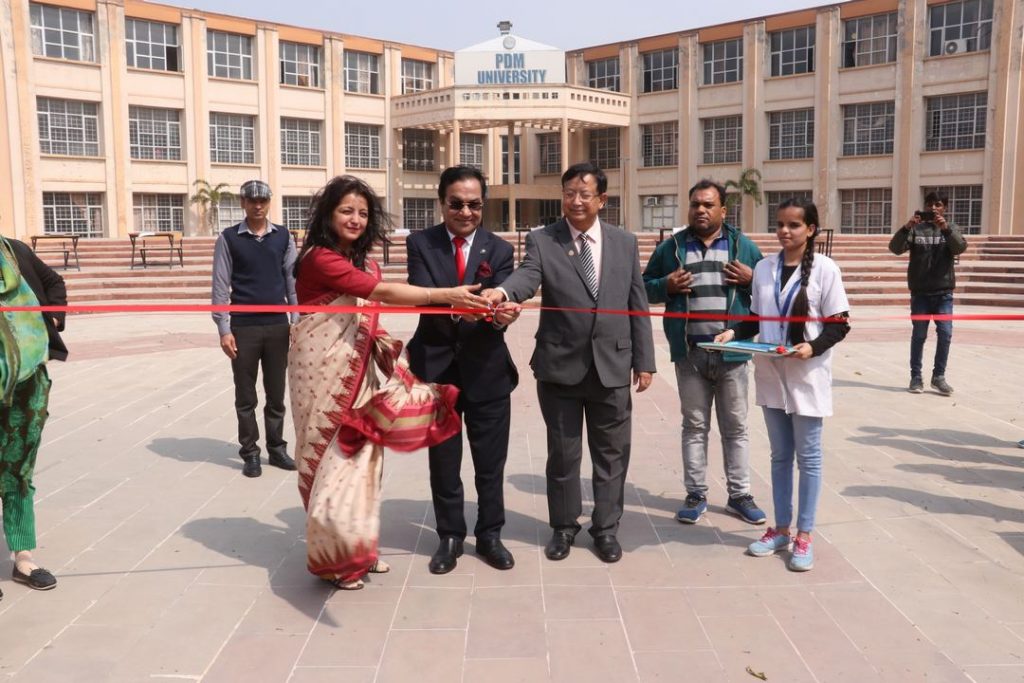 DSW, PDMU then presented a warm gesture and commenced the event by welcoming everyone present in the august gathering. She briefed everyone the importance of celebrating this occasion and also justified this year's theme of National Science Day, which was "Women in Science". She also motivated the students by quoting some golden words, that is,
Never get tired of doing little things for others,
Sometimes those little things occupy the biggest part of their hearts,
Today is your day, Your mountain is waiting
So get on your way….!
Prof. (Dr.) R.C. Bhattacharjee, respected Pro Vice Chancellor PDMU, in his talk stated that NSD is a day when we reassure that Indians can also Invent, Innovate and Excel in the direction of development. He briefed about the inspiring journey of a Great Physician, Sir C.V. Raman and said that, every invention & innovation brings a difference in the world and so did the Raman Effect. He mentioned that "India despite being a country of 1.3 – 1.35 billion, has acquired only 4-5 noble prizes, out of which only 1 is in the field of Science. Even last year, Abhijit Banerjee, an Indian American received a noble prize in Economics but again he was not an Indian." So, he motivated the young blood to do something innovative for their country as well as for themselves. He also gave wishes to organizers and participants for the success of the event.
Prof. (Dr.) A.K. Bakhshi, Hon'ble Vice- Chancellor, PDMU first of all, extended his warm greetings to everyone. He apprised the audience that all the celebrations of NSD started from 1987 onwards and also stated that the Raman Effect is important in Structure Elucidation. He then shared his thoughts with the gathering by stating that, "Scientists are not only those people who study Science but the term Science has some broader connotations." He also threw some light upon Article 51 of Indian Constitution, which delineates that, "Every citizen of India should develop Scientific Temper, Humanism, Spirit of Enquiry and Reform". He said that, scientific temper should be an integral part of one's personality and therefore, both teachers and students should follow scientific approach in learning.
He then talked about the minimal contribution of India in Scientific discoveries and advised the young budding minds to check where we are faltering and to ponder why we are not able to achieve a breakthrough at that level. He persuaded the students to be creative & to think out of the box for the sake of excelling in research. He also apprised the 3 essentials for achieving a noble prize, viz., Persistence, Enormous amount of Creativity & Collaboration. He mentioned that our Education system needs to encourage the creativity & innovation among the students. He also shared his experience of working with a noble prize winner in Chemistry at Japan. Finally, he talked about the theme of NSD 2020.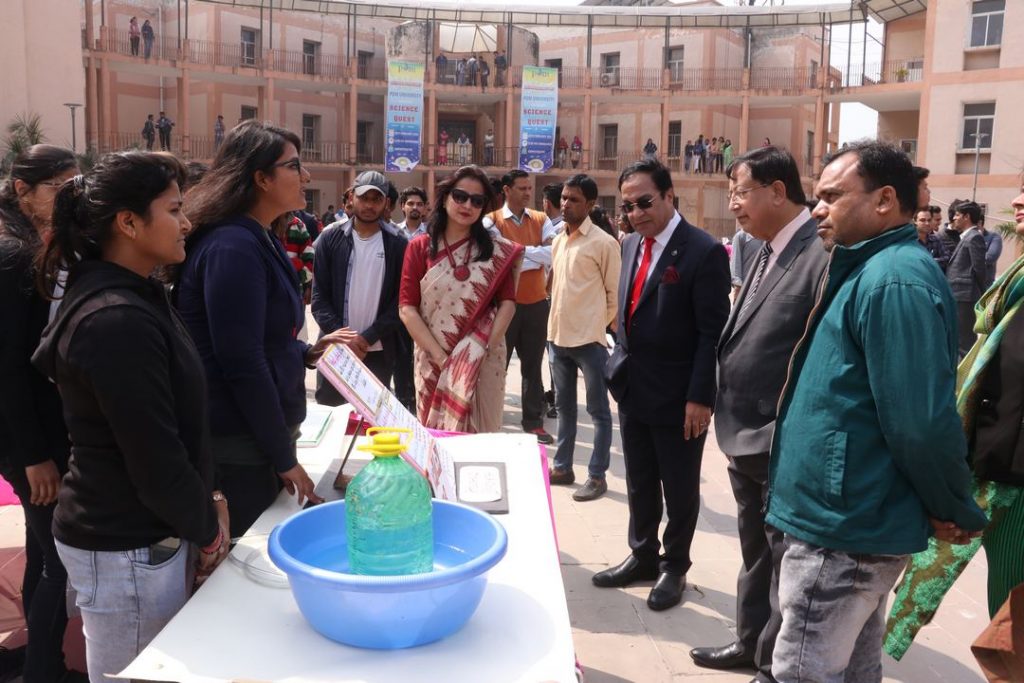 After recitation of National Anthem, Hon'ble Vice Chancellor, PDMU then along with Respected Pro Vice – Chancellor, PDMU, DSW, PDMU, Deans of various faculties, staff members and students, inaugurated the Science exhibition in Amphitheatre by performing ribbon cutting ceremony.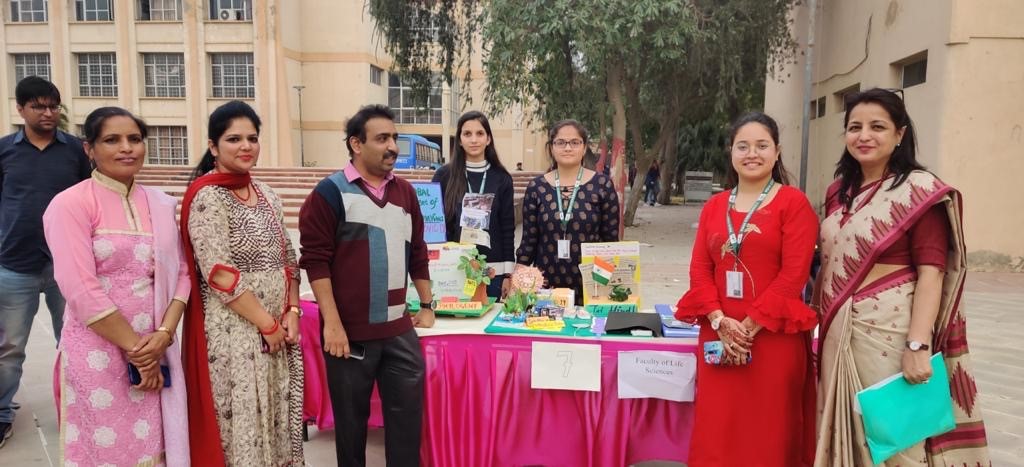 With an endeavour to promote scientific attitude and to inculcate scientific temper among the students, this exhibition was one of its kind. More than 100 students across the University participated in the Science quest and demonstrated 33 models. The exhibition provided a platform for the budding students to express their creativity, gain confidence and to perform scientific experimentation and innovation. The enthusiasm and skill clubbed with in depth knowledge was commendable.
To encourage the students to widen their knowledge, PDMU also conducted a Quiz Contest from 01:30 p.m. onwards. The contest was divided into 4 rounds, viz. Testing Times, Fast & Furious, Double Trouble and Rapid Fire. 8 teams came forward for the contest and all the team surprised the audience with their in-depth knowledge. The quiz masters were Himanshi, Faculty of Pharmaceutical Sciences and Utkarsh, Faculty of Humanities.
1st prize was conferred to: Faculty of Education
2nd position was bagged by Faculty of Physiotherapy
3rd position was bagged by Faculty of Pharmaceutical Sciences.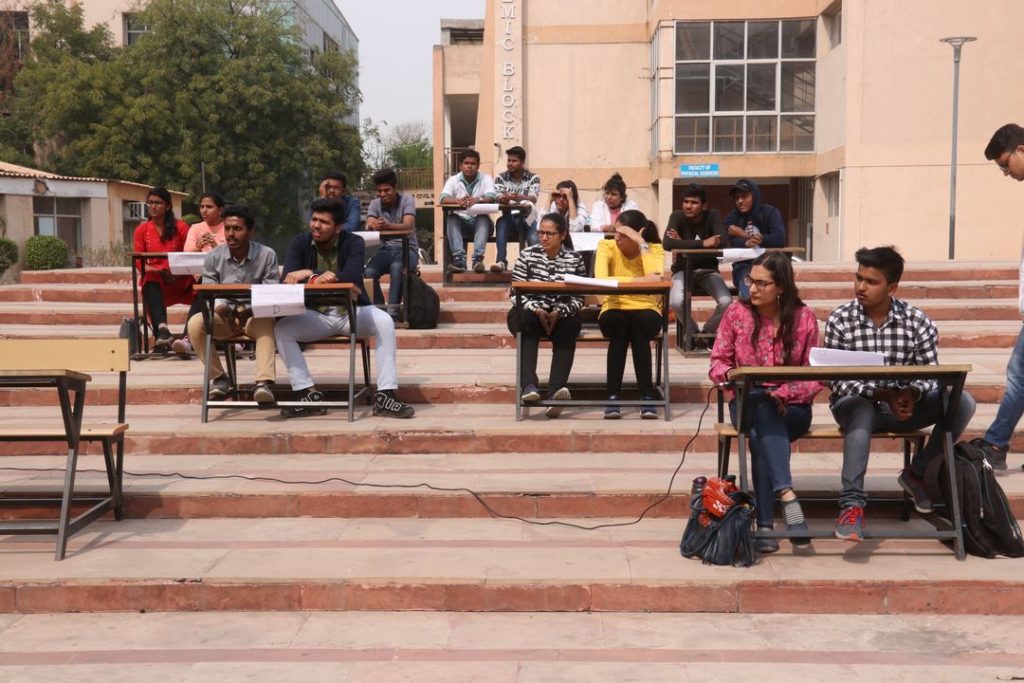 Students and Teachers of various Faculties under PDMU witnessed the exhibition and interacted with the participants. The eminent jury evaluated the exhibits and gave their judgement after inspecting each project on the criteria of innovation, ideation, creativity and applauded the students inquisitiveness in Science, which will help the world to become a much better place to live in.
The results for Model Making competition are as follows :
1st Prize was conferred to : Faculty of Life Sciences
2nd Prize was conferred to : Faculty of Pharmaceutical Sciences
3rd Prize was conferred to : Faculty of Physiotherapy
4th Prize was conferred to : Faculty of Agriculture
5th prize was conferred to : Faculty of Pharmaceutical Sciences