Talent EXPO Show- A Cultural Evening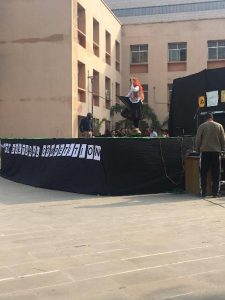 An Intra college dance, music and drama competition was organized by the Cultural Club of the P.D.M. College of Engineering on 3rd February 2017. The performances encompassed of various styles of Western and Indian – Hip Hop, Robotic, Gangnam, Folk Lore and even Classic Bollywood numbers which evo
ked enthusiasm among the audience. Rahul, a semi classical musician stole the hearts of the audience with his melodious voice.
A splendid performance given by the AINA, drama group of the college based on gender discrimination and corruption in society was a befitting end to the show both in terms of the message given and the skills to be brought alive while playing the roles. Prof. R.C. Bhattacharjee , Director PDM College of Engineering, Ms. Anshika, Cultural coordinator, Ms. Shruti and Ms. Sunaina Club in charges with all the  staff members of PDMCE and  PDM University enjoyed the cultural evening and encouraged the students.