PDMU Celebrates International Women's Day
The willingness to listen, the patience to understand, the strength to support, the heart to care and just to be there, that is the beauty of a lady!
PDMU celebrated the enlivening occasion of International Women's Day by organising a Rangoli Making and Poster Making Competition at Amphitheatre, PDMU Campus with great fervour on 08th March, 2019 from 10:00 a.m., followed by a "Felicitation Ceremony" in G4 Hall.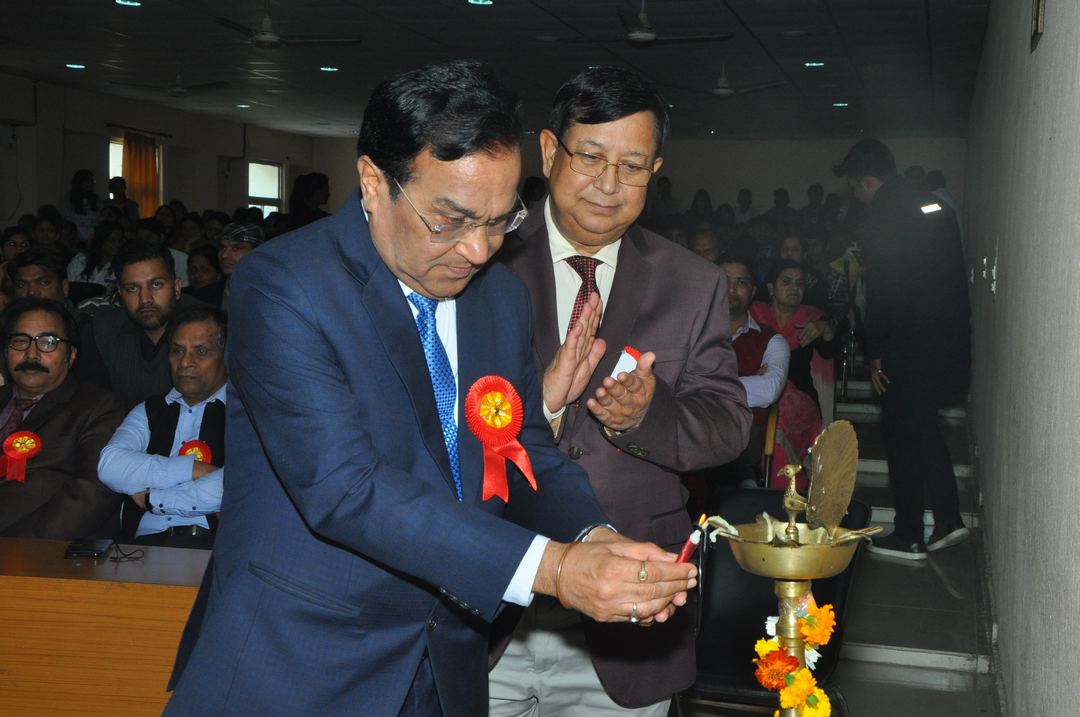 The rostrum was nobilitated by Hon'ble Vice Chancellor, PDMU, Prof. (Dr.) A. K. Bakhshi, Respected Pro Vice Chancellor, PDMU, Prof. (Dr.) R.C. Bhatacharjee, Respected Registrar, PDMU Prof. (Dr.) PAramjeet Singh, Respected Dean, Student's Welfare, PDMU and Dean, Faculty of Pharmaceutical Sciences Prof. (Dr.) Hema Chaudhary and Dean, Faculty of Agriculture, PDMU Prof. (Dr.) A. S. Dhindiwal . The event was also graced by Respected Deans, Staff and Students of various Faculties of PDMU.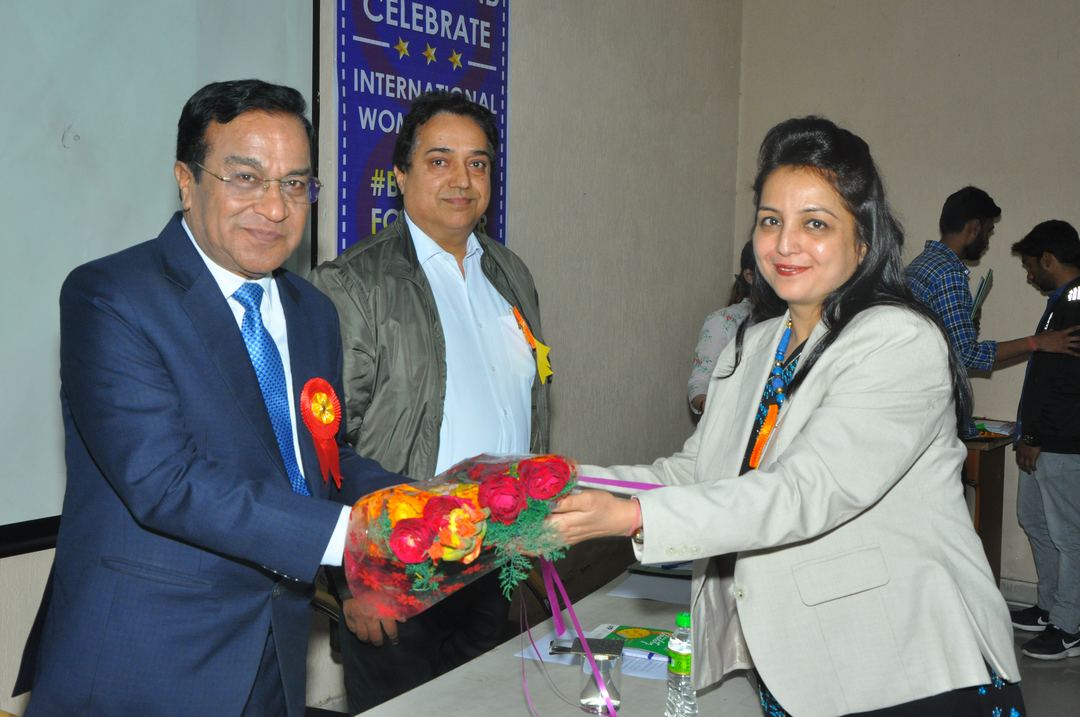 A posy was presented to Hon'ble Vice Chancellor Sir by DSW. Dean, Faculty of Agriculture presented a nosegay to Respected Pro Vice Chancellor Sir whereas Dean, Faculty of Dental Sciences, PDMU Prof. (Dr.) Mandeep Singh presented the floral greeting to Respected Registrar. The event commenced with the traditional and propitious Lamp Lighting Ceremony.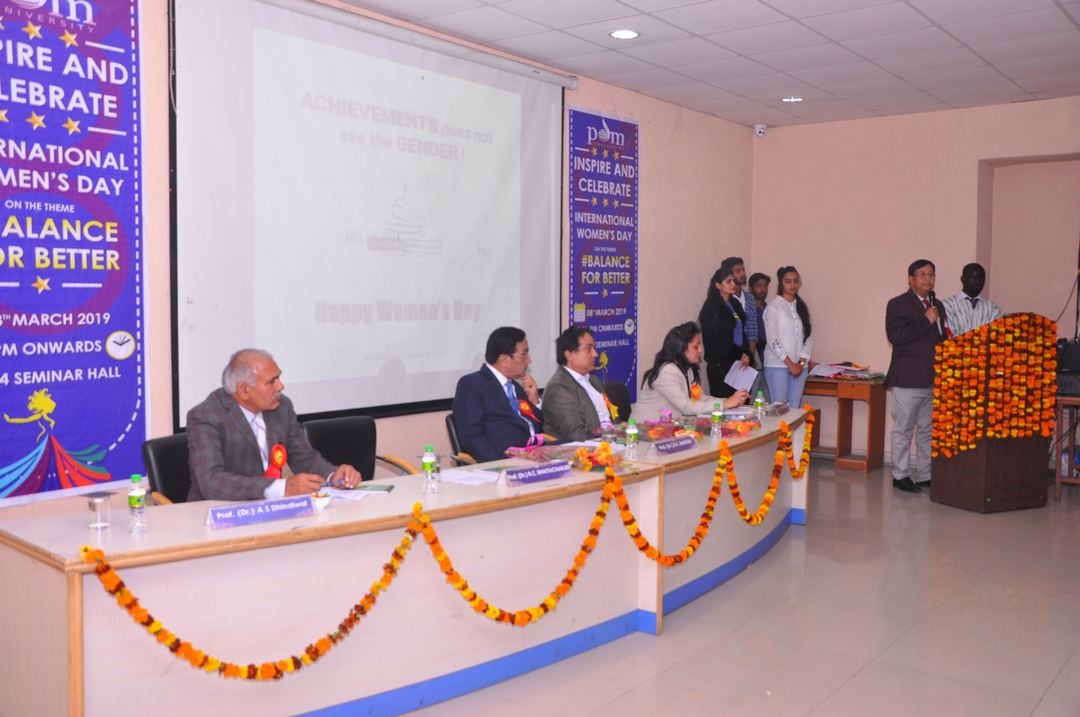 DSW, PDMU presented the welcome address and acknowledged the gathering by apprising the significance of celebration of International Women's Day. She highlighted the importance of Gender equality and verbalized that, "Rather than trying to fit a woman into a man's world, we must create a society where the masculine and feminine have an equal role to play". She also intonated a beautiful verse and wished all the ladies, "A very Happy International Women's Day".
Prof. (Dr.) R.C. Bhattacharjee, Respected Pro Vice Chancellor PDMU, in his talk enlightened the gathering about a custom followed in India in past, Sati Pratha and how Raja Ram Mohan Roy reformed it. He also briefed about the enormous contribution and participation of women in nation building.  Sir said that the women today are strong enough and empowered and succinct about the gender equality. Sir also expressed his profound respect to the women of PDM University and appreciated their colossal offering to the University.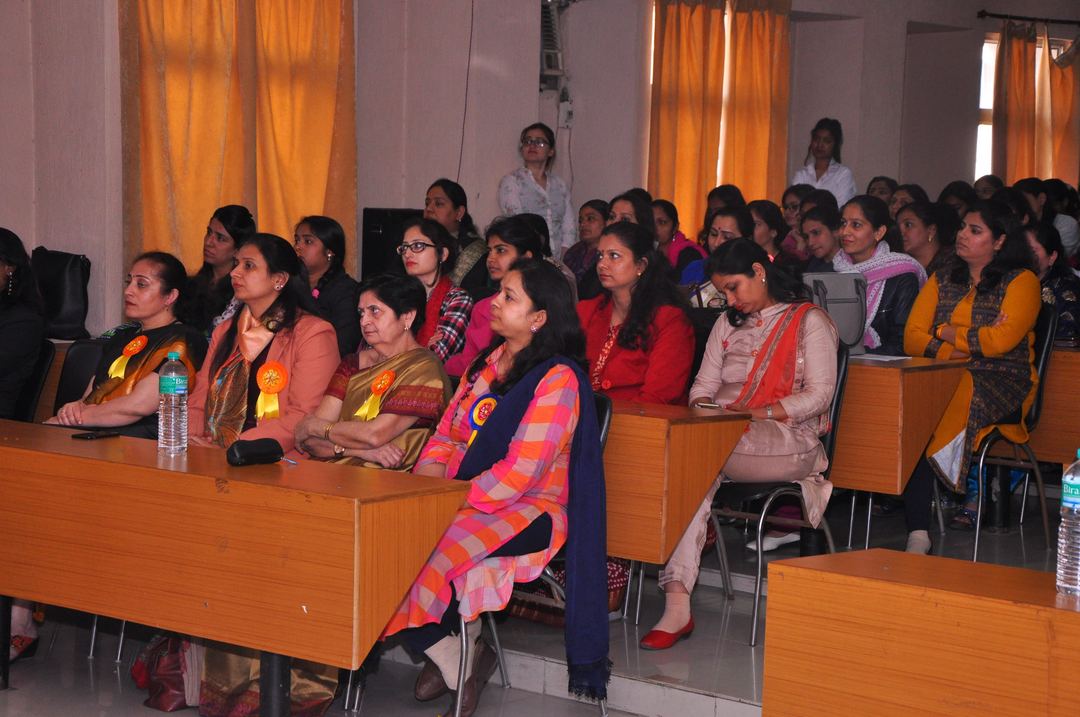 Prof. (Dr.) A.K. Bakhshi, Hon'ble Vice- Chancellor, PDMU first of all, offered his greetings to all the women. Sir evinced his beatitude for the glorious celebration of International Women's day in PDM University since last 3 years. He also appreciated the brilliant talent and innovatiness of students and boundless contribution of the Staff. Sir talked about gender equality and bridging the gap between men and women as both of them are indispensible in their own way. He also quoted that "Achievements do not look at gender". Sir motivated the budding minds to earn success on their own as nobody gives it on platter and  emphasized the students to first cynosure on their immediate aim and then to their distant aim. Sir expressed oodles of gratitude to DSW, PDMU for overseeing all the activities and also thanked everyone for the event a grand success.
DSW Madam then, as a gesture of endearment proclaimed the "FELICITATION CEREMONY" where a number of women in PDMU, serving as a teacher/ a lab technician/lab instructor/ a lab attendant/ a peon/ an administrative person including two girl students from each faculty were felicitated with a Certificate of Appreciation based on their contribution, service and merit to the University.
A Certificate of Appreciation was also presented to the shortlisted candidates of Rangoli and Poster Making Competition. The event proceeded by screening an AV clip  based on the theme, "BALANCE FOR BETTER", and also included the fleeting glimpses of the preliminary session.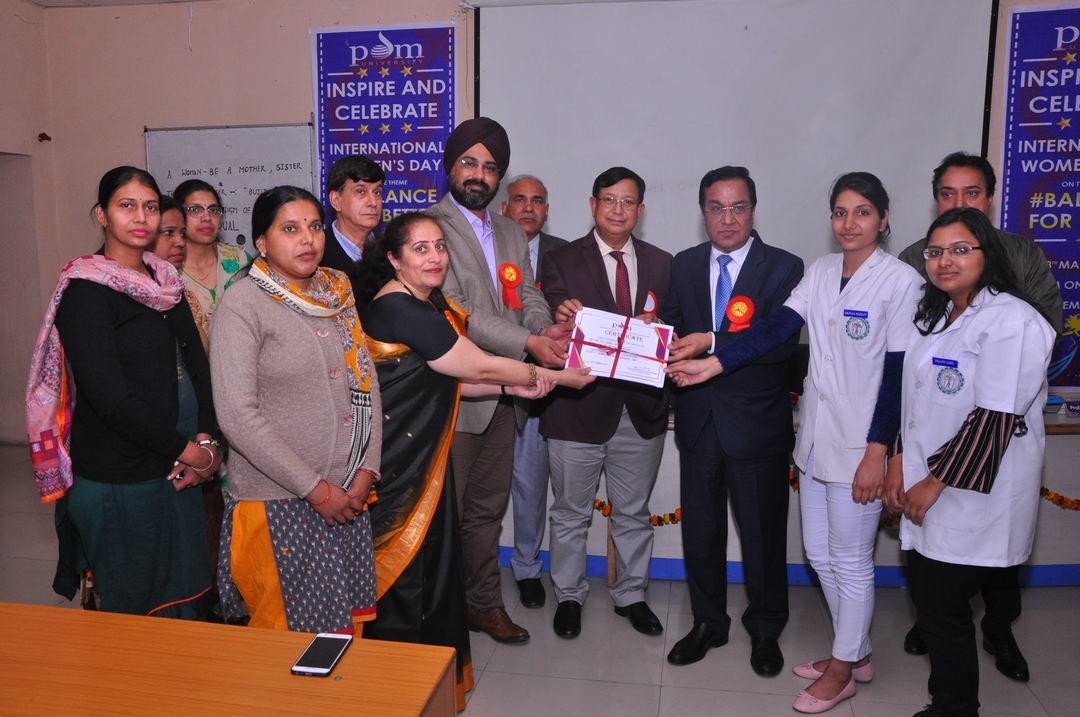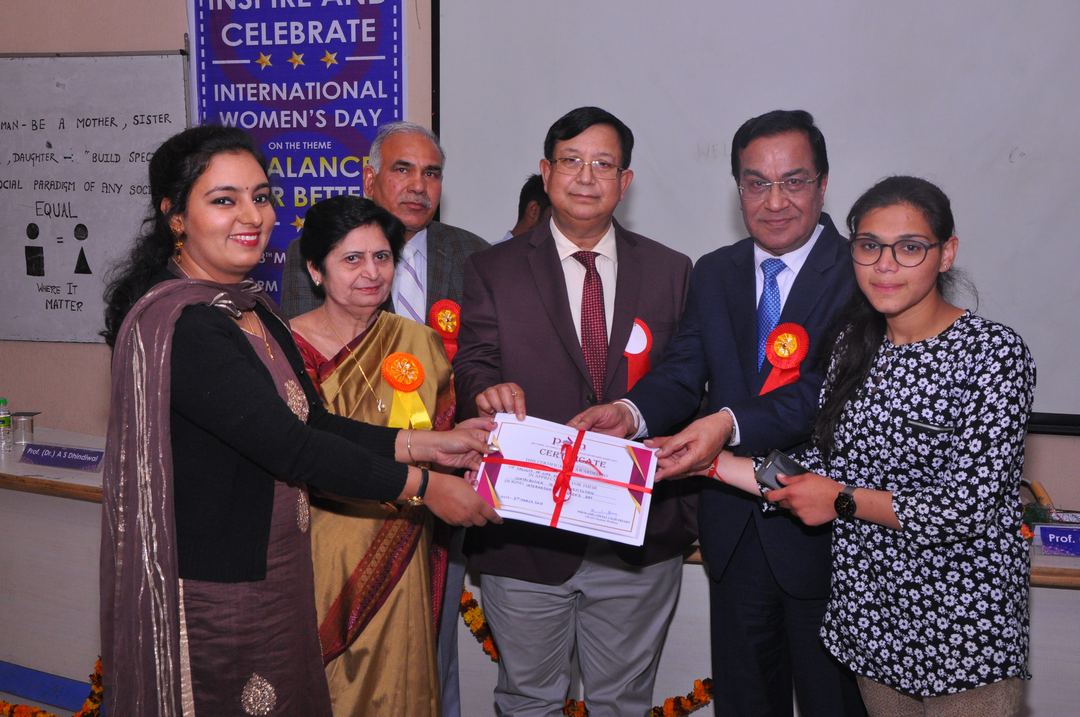 A vote of thanks was  presented by Dean, Faculty of Agriculture, PDMU Prof. (Dr.) A.S. Dhindiwal, where he thanked everyone and presented a warm gesture by according a beautiful nosegay grown by the students in the farms at PDMU campus, on their own to Dr Hema Chaudhary, DSW, Dr Barkha, Incharge, F/o Humanities and Social Sciences and Dr Sudesh Malik, Incharge F/o Education.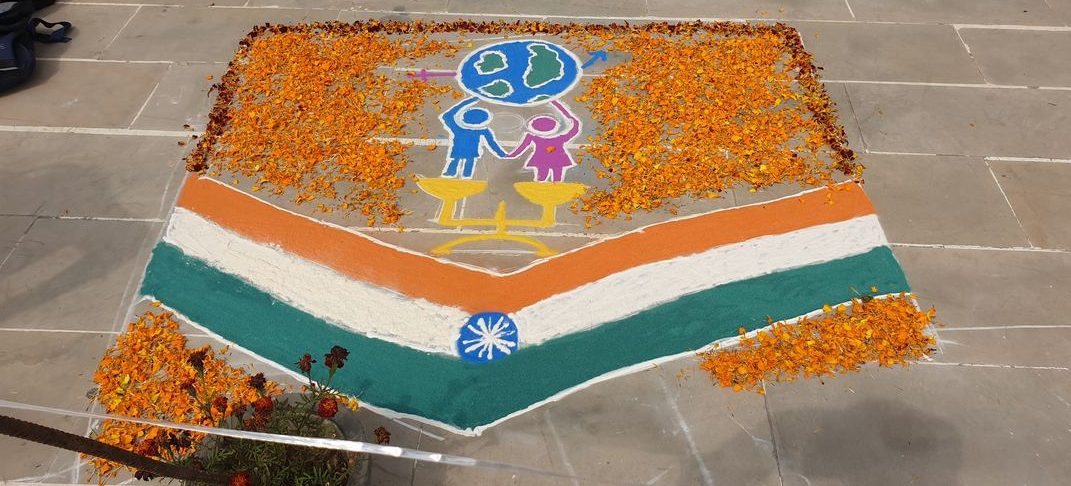 The event concluded by singing national anthem.