Rashtriya Ekta Diwas and Haryana Day Celebration
PDM University celebrated the glorious occasion of  Rashtriya Ekta Diwas to commemorate the 143rd birth anniversary of Sardar Vallabhbhai Patel (Iron Man) and 52ndHaryana Day with great ardour on October 31st, 2018 at 10:30 am in G4 Hall, PDMU Campus. The juncture was graced by Hon'ble Vice Chancellor, PDMU, Prof. (Dr.) A. K.Bakhshi,  Pro Vice Chancellor, PDMU, Prof. (Dr.) R. C. Bhatacharjee  and Dean, Faculty of Pharmaceutical Sciences and Dean, Student's Welfare, PDMU Prof. (Dr.) Hema Chaudhary. The event was also poised by Respected Deans, staff and students of various Faculties of PDMU.
Prof. (Dr.) A. K. Bakhshi, Hon'ble Vice Chancellor, PDMU, welcomed the august gathering. He notified the students that the initiative for celebration of Rashtriya Ekta Diwas has begun from 2014 and apprised about the immense contribution of Sardar Vallabhbhai Patel in unification of nation. He, informed the gathering about the Statue of Unity inaugurated by Hon'ble Prime Minister on the banks of Narmada river in Gujarat. The statue of Sardar Vallabhbhai Patel is the tallest statue in the world. In view of Haryana Day, Sir encouraged the gathering to amalgamate together and contribute for the growth and prosperity of Haryana.
Prof. Dr. R.C. Bhattacharjee, Hon'ble Pro Vice Chancellor PDMU, in his talk notified that today two birthday are celebrated, one of Sardar Patel and the second birthday of our own Haryana state which is on 1st Nov. He enlightened the students by telling the real meaning of Sardar, referring to : The Leader. The title was conferred to Sardar Patel as heorganized movement in favour of farmers of Gujarat for non payment of tax to British Government. He emphasised to remember the ideology of Sardar Patel not only just today but to be remembered always. He informed that a sense of belonging should be inculcated, quoting the example of sardar Patel that he rejected number of positions offered by British Government as he had the sense of belonging towards his country. Sir apprised that Sardar Patel always worked for the well – being of country and he mentioned that today's time the essence of life is invading.
The importance of the event was marked by unveiling the potrait of Sardar Vallabhbhai Patel as a token of gratitude.
The event proceeded with the pledge taking ceremony. The Rashtriya Ekta Diwas Pledge was taken by Honourable Vice Chancellor, PDMU along with all the Deans, Staff and students of the University.
A short movie clipping were played to the audience in  commemoration of Sardar Vallabhbhai Patel birth anniversary and the momentous celebration of 52nd Haryana Day.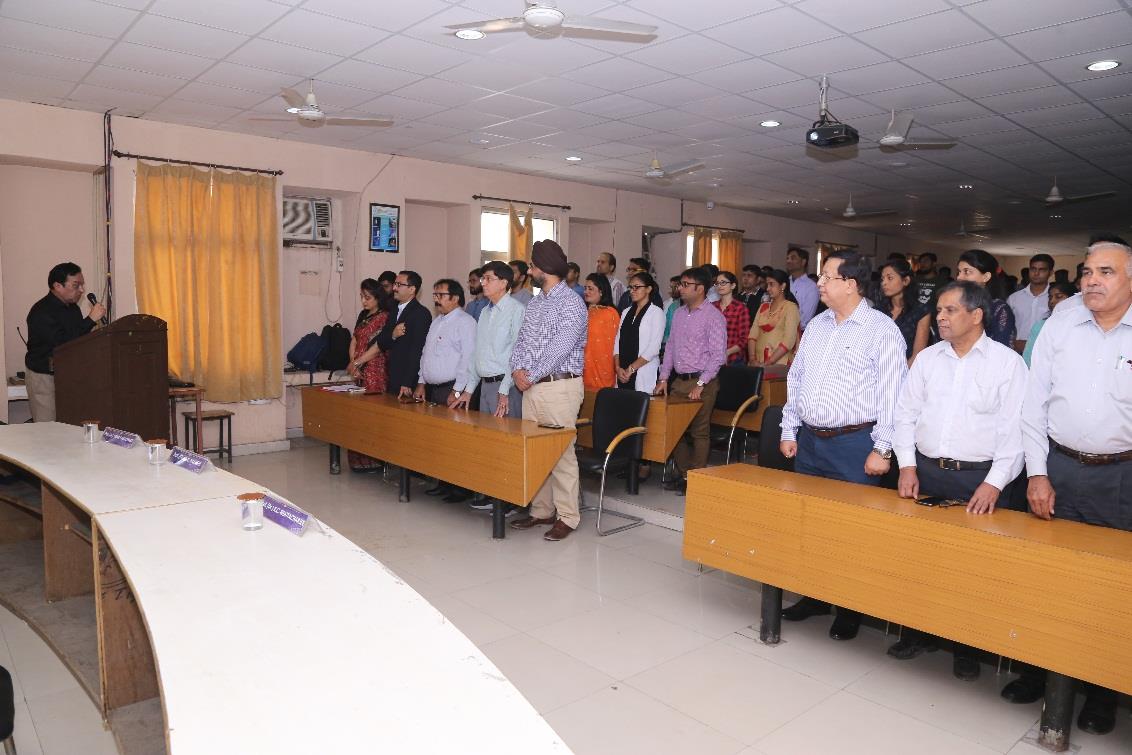 The vote of thanks was proposed by Dean, Faculty of Pharmaceutical Sciences, PDMU and DSW, Prof (Dr) Hema Chaudhary. The event concluded by reciting National Anthem.
A Run for Unity was organized  for the staff and students, to spread the message of Unified Bharat. The Run was flagged off by Hon'ble Vice Chancellor, PDMU.