SAP Student Academy Program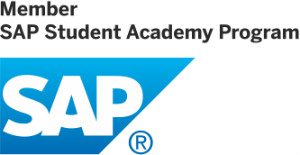 PDM University in partnership with SAP Student Academy Program has launched various job oriented programme to bridge the industry-academia gap and enhance student employability and entrepreneurship opportunities.
About the Program
The SAP Student Academy program is designed to provide convenient and cost-effective SAP training to aspiring students .  SAP Education strives towards providing employability enhancement SAP skills and Certification programs. SAP Student Academy Program is an initiative of SAP Education to provide SAP Courses to students studying in Colleges/ Universities.  The SAP Student Academy program  offer specialized SAP software training. The program offers access to self-paced learning courses that are mapped to SAP certification tracks in many SAP solution areas. With SAP Student Academy, you can deliver highly valued content that increase your employability with SAP skills.
Objectives
• Enhance student employability
• Support today's informal learning styles
• Access to self-paced courses that are aligned with SAP certification tracks
Programs:
SAP R3 – Financial Accounting (FI)
SAP R3 – Human Resources (HR)
SAP R3 – Advance Business Application Programming(ABAP)
SAP R3 – Material Management (MM)
SAP R3 – Sales and Distribution(SD)
Program Benefits:
Affordable pricing and a fast rollout
Improved career opportunities for students
More up-to-date skills and expertise for faculty
Affiliation with SAP, a respected and innovative thought leader
Flexible learning program that can be completed to fit with university studies
In-study completion of SAP Certification to speed up career progression in SAP's ecosystem
Access to membership bnefits relating to the SAP Certification program
Awarded with Course Completion Certificate
Job Opportunities:
To work as R3 Consultant in Large SAP Customer companies and SAP Consulting Partner Companies.