World Pharmacists Day Celebration 2018
Faculty of Pharmaceutical Sciences, PDMU celebrated the joyous occassion of  World Pharmacists Day on theme "Pharmacists: Your Medicines Experts" with great ardour on September 26, 2018 at G4 Hall in PDMU Campus from 11:00 am onwards. The Guests of Honour for the event were Shri S.L. Nasa, Registrar, Delhi Pharmacy Council and Prof. (Dr.) Raman Dang, Registrar, DPSRU. The juncture was also graced by other honorable dignitaries i.e. Vice Chancellor, PDMU, Prof. (Dr.) A.K.Bakhshi,  Pro Vice Chancellor, PDMU, Prof. (Dr.) R.C. Bhatacharjee  and Dean, Faculty of Pharmaceutical Sciences and Dean,Student Welfare, PDMU Prof. (Dr.) Hema Chaudhary. Event started with tilak ceremony of the dignitaries and the program was emceed by Himanshi Sehgal, Ruchika Kachroo and Niloy Banerjee.
The guests were greeted with a nosegay by honourable Pro- Vice chancellor while Dean, Faculty of Pharmaceutical Sciences, PDMU Prof. Dr. Hema Chaudhary presented the floral greetings to dignitaries. Then Dean, Faculty of Pharmaceutical Sciences and DSW presented a warm gesture and commenced the event by her welcome speech. 
Prof. Dr. R.C. Bhattacharjee, Hon'ble Pro Vice Chancellor PDMU, wished audience a very Happy World Pharmacists Day 2018. Sir apprised the importance of a pharmacist and how necessary is it to pay a tribute to them. He also briefed that the contribution made by a pharmacist in the society is huge and therefore do not require a single but all 365 days of recognition and praise. Sir also informed the gathering about the discovery of various drugs and also mentioned that,  "The two most important aspects for a pharmacist should be his work and his ethics.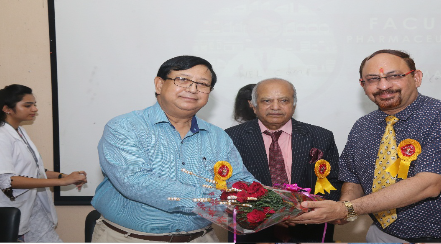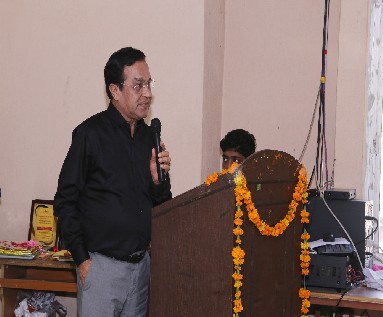 Prof.(Dr.) A.K. Bakhshi, Hon'ble Vice Chancellor, PDMU, welcomed the esteemed guests and wished everyone. Sir adviced students to have Pride in self profession and also inspired the budding minds to work hard by mentioning the example of Sh. S.L. Nasa Sir. He asked students to achieve excellence. Sir also energized the students to do something unique and not become one in the crowd. He encouraged the students to be creative, innovative, to implement their idea and finally earn laurels for themselves.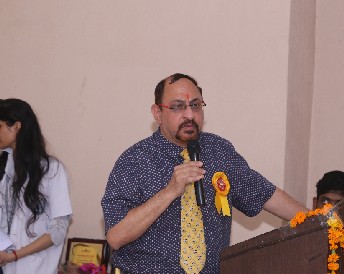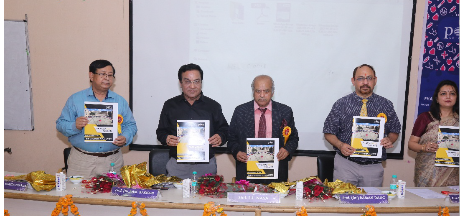 Prof. Dr. Raman Dang from DPSRU, acknowledged the eminent gathering by introducing himself as a proud pharmacist. He boosted up the budding pharmacist by making students aware that traditionally, individuals may think of a pharmacist as a health care professional who wears a white coat and dispenses pills, but the role of the pharmacist expands beyond dispensing drugs and hence, highlighted the job certainty in this profession.  
He discussed that non practice allowance should be provided to pharmacists and  also informed that pharmacy is the 2nd highest paid profession. Sir, enlighted a no. of new courses such as, IPR, B.Pharma with LLB, B.Pharma with MBA, M.Pharma in Public Health, etc. and explored about antibiotic resistance, naturopathy, treatment  with  a number of better medicines. He said that Pharmacists should be a part of Health Care Team and suggested all the would be pharmacists to attend IPC Expo. Sir, also eulogized the PCI for making a revolutionary regulation of uniform syllabus all over the India. He also said that despite of academics, general training such as in case of snake bite, dog bite, hypoglycemic condition, etc.  should be given to the students and a MOU must be signed between industries and finishing schools.  
Sir also felt very grateful to Dr. Hema Chaudhary for inviting them for the event and admired all students who were dressed up uniformly in white lab coats that marked their dedication towards the profession. 
Sh. S.L. Nasa from Delhi Pharmacy Council, informed that his experience comes way back from 1953 till today. Sir talked about his experience in the pharmacy world and about the opportunities and employment in this field. He emphasised basically upon the Section 26 of Pharmacy Act. He also guided that each hospital opened, should have a Drug Inspector to be an incharge in each hospital. Sir concluded by wishing the students all the best for their career and by encouraging them to rise and shine.
Highlight of the event was launch of PharmaBuds Magazine, PharmaBuds Calendar and PharmaBuds World Pharmacists Day dedicated movie. Launch of PharmaBuds calendar and PharmaBuds Magazine was accompanied by a short movie enlisting features of calendar and Magazine. It also showcased covering of the events such as Pharma-rally, Health and Blood Donation Camp held in 2017 and Teachers Day Celebration 2018 held at Faculty of Pharmaceutical Sciences, PDMU and was appreciated by all.
The program proceeded further by making a verbal promise, i.e., "Oath Ceremony", where in all the dignitaries along with the students took the "OATH".  The dignitaries were felicitated by presentation of mementos as a small token of respect by DSW.