World Pharmacists Day Celebration 2019
We are fine with our medicine crown, May be not the necklace of stethoscope, But we play with colours of chemical stroke, May be no prescription we wrote, But the magic of cure we bring into scope, Some may think we will be shopkeepers of medicine stores, But they don't know or will, We are ruler of your breath and On our medicine, lifeless to get hope to live..
Faculty of Pharmaceutical Sciences, PDMU celebrated the exuberant occasion of World Pharmacists Day on theme "Safe and Effective Medicines For All" with great ardour on September 25, 2019 at G4 Hall in PDMU Campus from 01:00 pm onwards. The prestigious gathering was graced by Respected Prof. (Dr.) Hema Chaudhary, Dean, Faculty of Pharmaceutical Sciences, and Dean, Students Welfare,  PDMU, learned teachers, proficient non- teaching staff and the budding pharmacists.

Before stepping into the event, to make the day a blessed one and to seek the choicest blessings of Goddess Saraswati , Ruchika and Sukriti intoned a mellifluous prayer.
Then, Dr. Hema Chaudhary commenced the event and welcomed the dazzling gathering. She started with a beautiful verse and then, meticulously explained the purpose of celebrating World Pharmacists Day to the venerable gathering. She stated that, "A pharmacist is a key that unlocks all you need to know about your medicines and which says, that, We are with you in sickness and in health."
She then apprised the gathering about this year's theme of World Pharmacists Day-"Safe and Effective Medicines for All", which highlights, "Pharmacists are crucial to the safe and effective use of medicines and plays a vital role in curtailing medication errors, which is a global health challenge nowadays." She also encouraged all the budding pharmacists to celebrate this day and make their contribution towards their profession and global health.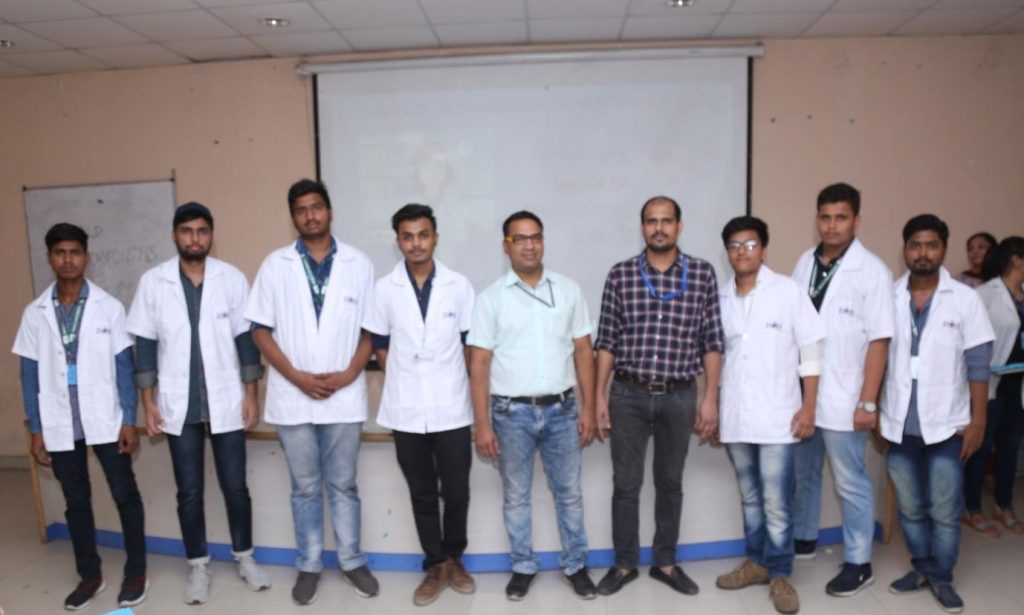 Two students from final year, Ruchika Kachroo and Anjali Goyal , presented their views on this proud occasion. Thereafter, the Pharmacy students of 1st semester were bestowed with their professional identities, that is, Lab Coats, as a mark of their entrance into this proud pharmacy profession. The students were called in a batch and the Dean along with the teachers commenced and executed the Lab Coat Ceremony. The program proceeded further by making a verbal promise, i.e., "Oath Ceremony", recited by Dean, F/o Pharmaceutical Sciences,  where in all the staff along with the students took the "OATH".

The programme reached towards the conclusion with a vote of thanks proposed by Mrs. Renu Sehrawat. The event culminated with the National Anthem.